The US military says it will "continue to fly" in the Strait of Taiwan, despite recent outrage in Beijing over US actions in the self-governing island.
The Chinese People's Liberation Army (PLA) launched a serious of large, live-fire exercises in the region following a 2 August visit to Taiwan by a senior US political figure, Speaker of the House Nancy Pelosi.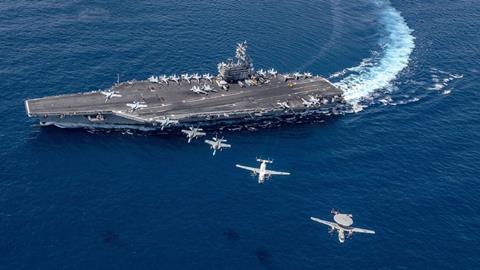 US undersecretary of defense for policy Colin Kahl, speaking on 8 August, called the military response by the People's Republic of China (PRC) a "manufactured crisis", noting that previous visits by US officials did not provoke such an aggressive response.
"Clearly the PRC is trying to coerce Taiwan, clearly they're trying to coerce the international community," says Kahl. "All I'll say is [that] we're not going to take the bait and it's not going to work," he adds.
The US Navy currently has two carrier strike groups patrolling in the region, each carrying an air wing of more than 70 combat jets and support aircraft.
The PLA drills included the launching of missiles to the north and east of Taiwan, which Beijing considers part of its sovereign territory. The Pentagon says five of those missiles landed in the waters of Japan's exclusive economic zone, an action Kahl describes as "reckless" on the part of the PRC.
China has become increasingly militaristic in the South China Sea and Taiwan Strait in recent years. Xi Jinping, the head of state and leader of the Chinese Communist Party, has made reunification with Taiwan a pillar of his policy agenda, including through force.
Included in the PLA manoeuvres was the largest-ever air incursion across the centerline of the Taiwan Strait, the de facto division of the disputed waterway. Nearly 70 Chinese military aircraft flew through the strait on 5 August, with 49 crossing the median line, according to the Taiwanese defence ministry.
The Global Times, a state-affiliated Chinese publication, quotes an unnamed official as saying the PLA exercises demonstrate "the Chinese mainland's absolute control over the Taiwan question" when the drills commenced on 3 August.
Such statements, coupled with China's military build-up in recent years, have led to speculation that the PRC intends to launch a campaign to forcibly bring democratic Taiwan under Beijing's control.
While the USA maintains the so-called "One China Policy" of not officially acknowledging the existence of a Taiwanese state known as the Republic of China, Washington has supplied arms and training to Taipei for decades.
Under a strategy known as strategic ambiguity, the USA has also not ruled out the use of military force to defend Taiwan from invasion. However President Joe Biden in recent months has gone as far as verbally affirming a US defence commitment to the island.
When asked if the Pentagon believes a Chinese military invasion of Taiwan was likely in the next two years, Kahl says, "No," without elaborating further.