The US Navy's (USN) giant aircraft carriers may require far fewer pilots in the not-so-distant future.
That is because the service has set a target for 60% of the aircraft in its future air carrier wings to be pilotless – a goal that will transform the navy and require acquisition of new aircraft types.
That concept was among topics discussed by senior USN aviators on 4 April at the Navy League's Sea Air Space conference near Washington, DC. Admirals outlined strategic goals that included improving maintenance practices, keeping more aircraft flight-ready and transitioning the fleet to include more uncrewed aircraft.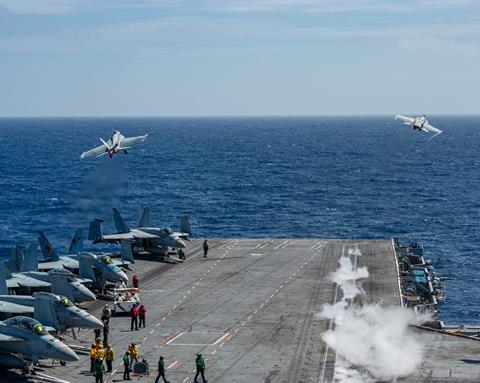 "We are in pretty good shape right now," says USN Vice Admiral Kenneth Whitesell, the service's so-called "air boss".
As commander of both overall naval air forces and of the US Pacific Fleet's aviation assets, Whitesell is the navy's top pilot focused exclusively on air combat. After years of heavy use and degradation, he says every aircraft type in the USN fleet is either new, recently acquired, in the process of being replaced or undergoing modernisations and overhauls.
The services multi-decade modernisation effort, which included acquisitions of fifth-generation Lockheed Martin F-35 strike fighters by USN and US Marine Corps squadrons, has left the navy's air fleet more capable than ever. "We're in a really good position to fight this next conflict, wherever it may be," says Whitesell.
But greater naval air-power changes are coming.
Rear Admiral Andrew Loiselle, the USN's director of air warfare, notes the service is developing or experimenting with "numerous unmanned systems" – aircraft that will transform the composition of the navy's carrier air wings. Examples include Boeing's MQ-25 Stingray autonomous refueller and Kratos' MQ-58 Valkyrie collaborative combat aircraft (CCA), which is designed to team with conventional fighter jets.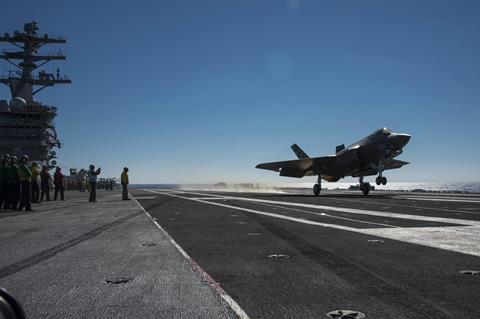 The USN is also studying the MQ-28 Ghost Bat – another CCA programme that Boeing is developing in partnership with the Royal Australian Air Force, Loiselle says.
Such aircraft align with the USN's "Air Wing of the Future" plan, which includes the 60% pilotless-aircraft target. The timeline for that transition remains unclear, but achieving the goal will require major changes to carrier air wings, Loiselle adds.
"We are going to look different then we do today," he says. "We're no longer going to have a force that has 44 strike fighters on the deck."
Those changes will not only affect the hangars and flight decks on the 11 super carriers the navy is required by Congress to maintain. Loiselle says entire carrier strike groups – which include support ships carrying long-range offensive missiles and providing air defence and logistics support – will be altered to facilitate a mostly autonomous air wing.
The transformation will ensure "the aircraft carrier strike group remains one of the 11 most-survivable airfields on the planet", according to Loiselle.
Notably, the shift may bring tighter cooperation between the USN and US Air Force. Loiselle says the services are "very close" to an agreement under which navy and air force CCAs will be interoperable with both services' crewed aircraft.
READY ON THE LINE
While new technologies such as autonomous aircraft and stealth fighters will transform the navy fleet, some of the most-significant capability improvements may result from simple changes to maintenance processes.
"We are going to be more effective and more efficient at maintaining mission-capable aircraft," says Rear Admiral John Meier, commander of naval air forces in the Atlantic.
A recent focus on maintenance is already paying off.
Air boss Whitesell says the USN classified 372 of its twin-engined Boeing F/A-18 Super Hornets as mission capable on 4 April. That figure, he says, sets a record of F/A-18s "on the line today".
Although the USN has been acquiring the more-advanced short take-off and vertical landing F-35B and carrier-capable F-35C, its more-numerous Super Hornet strike fighters will form the backbone of the fleet for decades.
While F/A-18s are among the cheapest fighters per flight hour in the USA's inventory, the USN has been challenged to keep those jets – and its F-35s – ready for combat.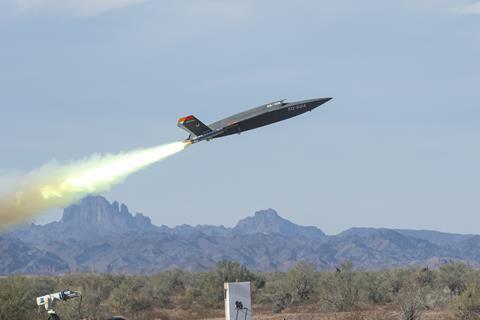 Vice Admiral Carl Chebi, who oversees the Naval Air Systems command that manages aircraft procurement, says new-programme delays and cost overruns have hindered the USA's military readiness. "Please deliver what we have you on contract for," Chebi tells suppliers during the Sea Air Space event.
"[With] numerous new platforms – we've really struggled with components out of the gate", adds Meier, citing poor parts reliability.
He also thinks the USN can improve its ability to support warships. "We significantly under-resourced sustainment," Meier says of the USN's new USS Gerald R Ford super carrier.
Still, Meier thinks the USN has made great strides to improve aircraft readiness, saying, "We're certainty out of the woods".