The US Navy (USN) is researching options for a "Tactical Surrogate Aircraft".
The aircraft would supplement flight time and training in frontline combat aircraft, provide adversary air support and serve as a flight lead aircraft for Fleet Replacement Squadrons; units that train naval aviators on frontline combat aircraft, such as the Lockheed Martin F-35C and Boeing F/A-18E/F Super Hornet.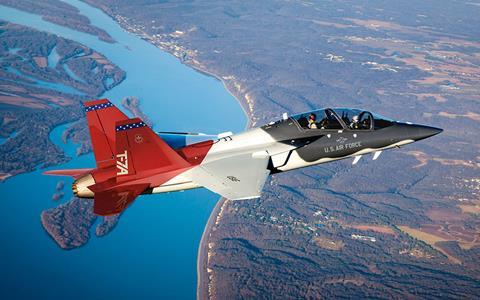 The service's interest was expressed in a request for information, posted on 20 October, and appears to have parallels to the US Air Force's (USAF's) "Reforge" pilot training concept, which would use advanced jet trainers instead of actual fighter aircraft to teach modern combat aviation skills. In fact, it is virtually identical to an "Advanced Tactical Trainer" request for information that the USAF posted on 12 October.
"The aircraft needs to simulate and/or replicate current and future fighter aircraft systems by providing the training environment and relevant experience to build tactical skills, systems management skills, and decision making skills required for weapon system employment actions", says the USN.
The service says it is notionally interested in buying 64 aircraft, with deliveries beginning in fiscal year 2024 or FY2025. For its part, the USAF says it is interested in at least 100 Advanced Tactical Trainers.
The USN wants a two-seat fighter-type aircraft "configured for single seat operations with alternate options for rear cockpit use". It is interested in knowing about the cost to remove rear the crew station and replace it with "permanent additional fuel or avionics bay volume".
The aircraft should have a minimum level aircraft speed of at least 600kt (1,110km/h). It should have a minimum operating ceiling of at least 45,000ft above mean sea level. The jet's structure ought to at a minimum be able to handle 7.5g of force and a sustained 6g of force at 10,000ft.
The aircraft should have a minimum flight endurance of 90min, including 30min of tactical manoeuvring. The jet should be able to fly basic fighter manoeuvring, air-to-air and air-to-ground mission profiles.
The USN wants the jet aircraft's cockpit to have large area displays with an open architecture configuration.
The Tactical Surrogate Aircraft should have an "operational flight program to replicate frontline [type model series] aircraft displays and enable simulated displays of aircraft combat systems, simulated inputs, and simulated weapons".
The service wants the aircraft to be able to carry a captive air training missile on one wingtip and a tactical combat training system, or an air combat manoeuvring instrumentation pod, on the other wingtip – equipment used to conduct virtual weapons training. The USN also wants a wing station to carry an electronic attack or electronic countermeasures pod.
MODERN COMBAT
The USAF and USN are fielding a growing number of advanced F-35 stealth fighters that require pilots to manage and use many complex electronics systems at once, for example, active electronically scanned array radars, long-range air-to-air missiles, and electronic warfare equipment. US military services are also facing off against increasingly sophisticated foes, such as China and Russia, that have their own stealth fighters. The increased complexity of modern aerial combat has caused the services to rethink how they train fighter pilots.
As a first step toward improving combat pilot training, the USAF in 2018 selected Boeing for a $9 billion contract to produce 351 "T-X" advanced jet trainers and 46 ground simulators. The company's T-7A Red Hawk is now to replace to the service's ageing fleet of Northrop T-38C Talons.
In 2020, the USN kicked off its search for a new advanced jet trainer to replace its Boeing T-45 Goshawk fleet. The service has 191 T-45s in its fleet, according to Cirium fleets data.
However, despite their advanced trainer programmes, the USAF and USN appear to believe they need additional light-weight jets for higher-end training and adversarial air exercises.
Competitors in the Tactical Surrogate Aircraft and Advanced Tactical Trainers programmes would likely include past contestants in the T-X programme: Boeing's T-7A, Lockheed's T-50A, based on the FA-50 light-attack/trainer developed with Korea Aerospace Industries; and Leonardo's T-100, based on the company's M-346.