The US Navy (USN) and US Marine Corps (USMC) have successfully completed the first demonstration of the "lightning carrier" concept, involving two squadrons of Lockheed Martin F-35B Joint Strike Fighters operating from an America-class amphibious assault ship.
Twenty of the short take-off and vertical landing variant of the F-35 launched from the USS Tripoli, conducting "high tempo" operations, according to the 3rd Marine Aircraft Wing in San Diego, California.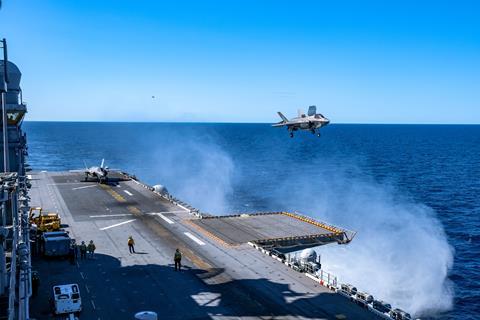 The phrase "lightning carrier" refers to the F-35's official moniker, the Lightning II. The recent test marked the first time in naval history that two squadrons of F-35s conducted operational drills from an America-class assault ship. The ships previously operated with Boeing AV-8B Harrier II ground-attack jets.
America-class ships resemble smaller versions of the USN's vaunted Nimitz-class nuclear-powered aircraft carriers. They are designed to transport and land a USMC Marine Expeditionary Unit via air assault, using traditional helicopters and Bell Boeing's CV-22 Osprey tiltrotor.
The Tripoli and its sister ships also provide sea-based air support to troops ashore. The recent drills proved the air support aspect of that mission can be accomplished using predominantly F-35Bs.
"This demonstration proved the versatility of the America-class assault carrier, with its ability to embark either two squadrons of F-35Bs… or a battalion-sized landing force and the associated assault support, which includes 12 MV-22B Ospreys, four [Sikorsky] CH-53E Super Stallions and six F-35B Lightning IIs," says USN Captain Joel Lang, commanding officer of the Tripoli.
The USN's first America-class assault ship, the USS America, was commissioned in 2014. The Tripoli is the second ship of that line, with ultimate plans for 11 of the vessels.