The US Navy (USN) is preparing what it calls the "most significant" upgrade to its fleet of Northrop Grumman E-2D Hawkeye turboprops in the history of the iconic platform.
The service on 28 September said it has approved a contract with Northrop valued at $845 million to fund an overhaul of the carrier-capable E-2D's cockpit and mission systems.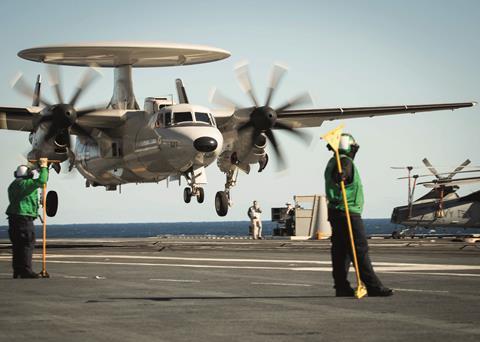 "This will be an E-2D 'Block II', which will reduce pilot workload, improve situational awareness, and bring vital readiness and reliability upgrades paired with architecture and cybersecurity improvements," says Captain Pete Arrobio, USN programme manager for E-2 command and control systems.
The navy calls the package Delta System Software Configuration 6 (DSSC 6).
The first upgrades under the DSSC 6 contract are scheduled to be introduced in 2027, according to Arrobio. He describes the package as the "most significant change to this platform since the E-2D rolled out".
DSSC 6 will replace the E-2D's current cockpit displays, controls and navigation system with modern versions. The aircraft's airspace command and control systems will also get a refresh with a new mission computer.
Janice Zilch, Northrop's vice-president for multi-domain command and control programmes, says improvements to the E-2D fleet will ensure the airborne battle management aircraft is able to "outpace evolving threats into the 2040s and beyond".
The planned improvements are part of the Pentagon's push for so-called "open systems", wherein new hardware and software are developed to government-owned intellectual property standards.
The change is meant to break so-called "vendor lock", in which the original equipment manufacturer maintains an effective monopoly on sustainment and future upgrades by using proprietary technology.
The USN says the DSSC 6 package will allow for "rapid integration of new capabilities, including non-proprietary applications" from other industry partners.
Fielding of DSSC 6 in the fleet is scheduled to begin in 2029.
The USN operates a fleet of 75 E-2Ds, according to Cirium data. Worldwide, Cirium suggests 106 of the type are in active service with Egypt, France, Japan, Taiwan and the USA.