Defence officials from the USA and Turkey met in Washington DC on 18 January for "consultations" related to Lockheed Martin's F-35 Lightning II fifth-generation stealth fighter.
The US Department of Defense (DoD) on 23 January confirmed it met counterparts from the Turkish Ministry of National Defence to discuss the F-35, describing the meeting as the second such round of talks. The first round was held in Ankara.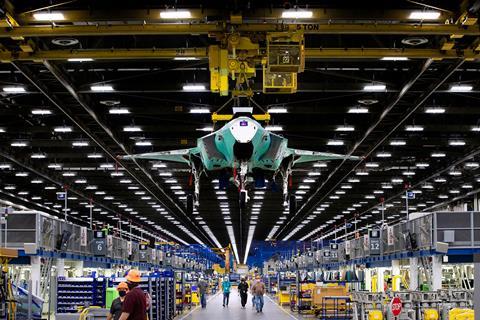 The DoD did not provide details about the substance of the discussions. The department confirms a third meeting will be held in the spring of 2023.
However, Turkish defence minister Hulusi Akar says the talks centre on securing a small number of F-35s for his country.
"Six F-35s for Turkey are in a hangar," Akar is quoted as saying by the newspaper Turkish Millet. "We are discussing what will happen to them."
Turkey was among original members of the multi-nation F-35 programme, which seeks to deliver a common multi-role fighter platform for US allies and partners in Europe, Asia and the Middle East.
The country had planned to acquire more than 100 of the jets.
Seventeen countries have committed to acquiring F-35s. Twelve military services from nine countries have declared initial operational capability of F-35 fleets.
Turkey is not among them. Washington removed the NATO member from the partnership in 2019, following Ankara's acquisition of a Russian S-400 air defence system.
The treaty ally, which is currently blocking NATO membership for Finland and Sweden, has since shifted its focus to acquiring Lockheed F-16 fighters to supplement its existing fleet of the type.
At least one key official in Washington involved in approving the sale opposes that move, citing the policy record of Turkish President Recep Tayyip Erdogan.
Consultations between the Biden Administration and Congress on the matter are ongoing.