The USA has agreed in principle to provide Turkey with additional Lockheed Martin F-16 fighters, shortly following a pledge by Ankara to support Sweden's entrance into the NATO military alliance.
The development came as heads of state from the 31-member Euro-Atlantic military bloc met in Vilnius, Lithuania. Jake Sullivan, the national security advisor to US President Joe Biden, speaking at the summit on 11 July, said Biden has been clear that he supports the F-16 sale to Turkey.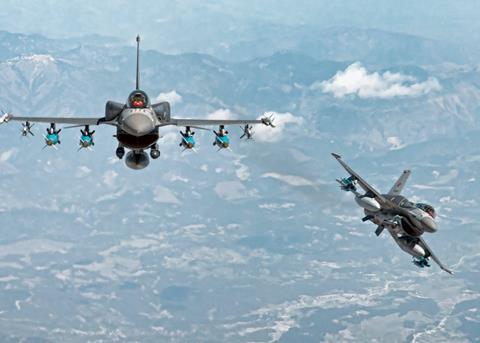 "He has placed no caveats on this," Sullivan says of the US president. "He intends to move forward with that transfer."
Biden has previously expressed support for such a transfer, including at the 2022 NATO summit in Madrid.
"We should sell them the F-16 jets and modernise those jets as well," the American commander-in-chief said at the time.
Ankara has sought to purchase 40 of the latest F-16V variants, along with modernisation kits for 79 of Turkey's existing F-16Cs. The package, first requested in 2021, is valued at some $20 billion. Turkey currently operates a fleet of 243 F-16Cs, according to Cirium data, 157 of which are assigned to combat duty.
Despite the Biden administration's apparent support for the fighter sale, Turkey's request has languished in the face of broad opposition from elected lawmakers in Congress. Nearly one-third of the US Senate opposed the sale in writing in a February letter.
The source of the congressional consternation was Turkey's opposition to Sweden and Finland joining NATO, a move the two Nordic countries sought after Russia's February 2022 invasion of Ukraine.
"Congress cannot consider future support for Turkey, including the sale of F-16 fighter jets, until Turkey completes ratification of the accession protocols," the bi-partisan group of lawmakers wrote in the February communique.
Since then, Ankara dropped its opposition to Finland joining the transatlantic alliance, and Helsinki has been confirmed as a full member of NATO.
By contrast, Sweden's accession had continued to face stubborn opposition from Turkey and its political ally Hungary. Aspiring NATO members must receive unanimous approval from all current member states to enter the bloc, including the mutual defence guarantees afforded under article five of the NATO treaty.
Turkey had opposed Sweden's accession on the grounds Stockholm supported activists and members of the Kurdistan Workers Party – a Turkey-based militant group designated as a terrorist organisation by the USA and EU.
Months of diplomacy leading up to the summit, and the conclusion of a successful re-election bid by Turkish president Recep Tayyip Erdogan in May, appear to have assuaged those concerns.
On the eve of the Vilnius summit on 10 July, NATO secretary general Jens Stoltenberg announced an agreement had been reached with Erdogan to drop his opposition to Sweden's alliance aspirations.
"President Erdogan has agreed to forward Sweden's accession protocol to [parliament]… and ensure ratification," Stoltenberg tweeted. "This is a historic step that makes all NATO allies stronger and safer," he added.
The former Norwegian prime minister did not offer a timeline for such approval, saying only that it would happen "as soon as possible".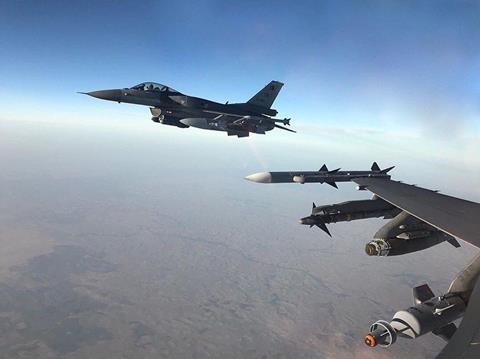 The tentative agreement paves the way for Congress to approve the F-16 sale sought by Turkey – a legal requirement under US law for the export of expensive or highly sophisticated American-made weapons.
While the Biden administration has officially rejected the notion that the fighter deal was linked to Sweden's NATO accession, the nearly simultaneous breakthroughs on two intractable diplomatic problems seems to contradict that claim.
While Turkey will still need to win the approval of the Congress, there already appears to be movement on that front.
New Jersey senator Bob Menendez, a key member of the US Senate who has previously condemned the Erdogan government's policies at home and abroad, told Reuters on 10 July that he is in talks with the Biden administration regarding the F-16 sale.
The long-serving Democrat framed his opposition around what he described as Turkish "aggression" toward historic rival and fellow NATO member Greece.
"If [the administration] can find a way to ensure that Turkey's aggression against its neighbours ceases, which there has been a lull the last several months, that's great but there has to be a permanent reality," Menendez said in Washington.
Aegean Sea neighbours Greece and Turkey went to war in 1921 over territorial disputes following the post-First World War collapse of the Ottoman Empire. In more recent years, Ankara claims that Athens has stationed military forces on certain Aegean islands, in violation of peace treaties between the countries.
Erdogan has deployed increasingly inflammatory rhetoric toward Greece, repeatedly indicating that Turkey could launch military action.
"When the time comes, we will do what's necessary," Erdogan said last September. "We may come suddenly one night."
Following a November test of Turkey's Tayfun ballistic missile, Erdogan warned the new platform, with a reported range of about 300nm (556km), is capable of reaching Athens.
Menendez, who is a supporter of supplying Greece with Lockheed F-35 stealth fighters, says that he could make a decision on the Turkish F-16 sale within a week.