Some 110 aircraft and more than 2,000 personnel from the USA and Australia recently completed a major aerial combat training exercise over the mountainous interior of Alaska.
Known as Red Flag Alaska, the exercise combines aviators, ground crew and a range of support functions including logistics and intelligence to replicate a holistic scenario focused on air combat.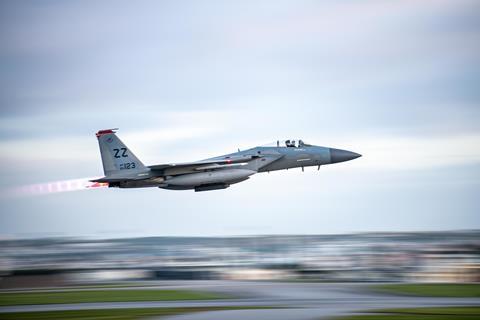 It's part of what US Air Force (USAF) General Kenneth Wilsbach, commander of US Pacific Air Forces (PACAF) and the country's top aviator in the Indo-Pacific region, describes as the effort to present combat squadrons with "the most difficult scenarios that those units might be asked to execute in the real world, in the near-future".
The USAF runs up to six iterations of Red Flag at Nellis Air Force Base in Las Vegas, Nevada and four additional exercises in Alaska. The two-week-long mock combat scenarios feature the full spectrum of combat aviation operations, including air superiority, in-flight refuelling, strategic lift, airborne command and control and air support to ground forces.
Other warfighting domains, including naval aviation, cyber and ground combat forces were also included in the most recent Red Flag Alaska, which concluded on 12 August, to better simulate a true conflict.
The exercises are planned months in advance, not in response to particular geo-political developments. However, China's recent, aggressive drills around Strait of Taiwan and on-going military build-up gave this Red Flag some non-simulated urgency.
This most-recent Red Flag, which incorporated 250 Royal Australian Air Force (RAAF) personnel and aircraft including Boeing F-18 Super Hornets, Lockheed Martin C-130J Hercules transports and Boeing E-7A Wedgetail command and control jets.
"We essentially are contributing a cross-section of our broader air combat and air mobility force that would be brought to bear in a scenario , whether it be something that Australia is doing by itself…or a coalition with like-minded nations," says RAAF Air Commodore John Haly, Australia's air and space attache in Washington.
Any future conflict with China would almost certainly see the USAF and RAAF supporting each other in combat. Multinational events like Red Flag help develop what military planners call "interoperability" between different forces.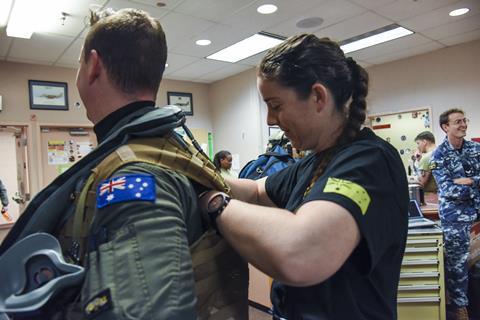 Wilsbach describes the relationship between the USAF and RAAF as "tremendous".
"I would say almost totally interoperable", he adds of the two fleets' ability to work together. In particular, Wilsbach notes the RAAF's acquisition of the E-7A early warning and control aircraft, which based on a Boeing 737 airframe and is superior to the USAF's current equivalent, the older Boeing E-3 Sentry.
"I have been on record as wanting E-7s as soon as possible for the USAF," Wilsbach notes, adding that Australia was the first country to field the more advanced platform, which he calls "fantastic".
Both officers condemn the recent Chinese activity around Taiwan, which Wilsbach describes as "a complete overreaction" to a diplomatic visit with prior precedent.
He adds that the US military's strategic objective is a "free and open Indo-Pacific".
Haly uses similar language, noting that the Australian government remains committed to an Indo-Pacific region where nations of any size have the right of self-determination "free of overt, coercive behavior or influences that might seek to be counter to their interests".
When asked about the importance of events like Red Flag for the RAAF, Haly says that Australia is "very keen to participate…in anything that builds capacity, resilience and otherwise contributes to stability in our region".
PEACETIME COMBAT
The Red Flag concept began during the USA's protracted war in Vietnam. As that conflict dragged on, the fighter pilots in the USAF and US Navy were shot down at progressively higher rates, while killing fewer enemy aircraft.
The cause of the faltering kill ratio was diagnosed as a lack of realistic training on air combat manoeuvres. Red Flag was launched in the 1970's to address that failing.
"New pilots were much more likely to get shot down on their first ten missions," notes Wilsbach, who has more than 5,000 flight hours on the Boeing F-15, Lockheed Martin F-16 and Lockheed Martin F-22.
The idea behind Red Flag, Wilsbach says, was to provide a combat experience in peacetime, ideally lowering the probability of a pilot being shot down during their first days and weeks in a fight.
Although the wars and equipment have changed, that ethos remains at the core of Red Flag.
"We keep trying to make the Red Flag missions more difficult," Wilsbach says. In fact, he argues that the training scenarios he confronted were often more difficult than those he faced in combat.
Part of what makes that possible are the vast tracts of North American wilderness reserved for large scale manoeuvres by the US military. The Joint Pacific Alaska Range Complex (JPARC) coves nearly 200,000sq km (77,000 sq miles) of air space for full-scale combat training, including adversary aggressor squadrons, sensors and personnel to monitor the exercises.
That is particularly valuable for fifth-generation fighters like the F-22 and Lockheed Martin F-35, whose advanced sensor systems can identify and engage targets over vast distances.
"This generation aircraft can train like they intend to fight, in the range space," Wilsbach says of JPARC. He also notes that Alaska is home to four USAF of fifth-generation squadrons; two comprised of F-22s and two of F-35s.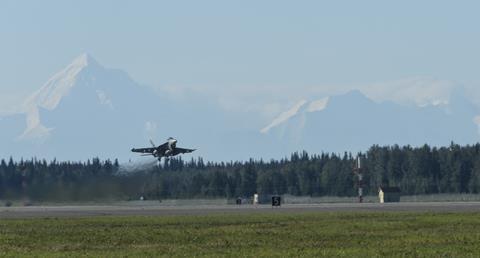 The PACAF commander also says that Red Flag scenarios are designed with real-world events in mind. Exercise planners review the past actions of probable adversaries in the region and build missions that will test air and ground crews accordingly.
"They will craft the scenario so that crews…will have to tackle that problem that they perhaps in the past haven't been able to solve," Wilsbach explains.
He adds that missions are often deliberately presented based on a squadron's past performance, with the intent of improving in areas where crews may have previously struggled.
"We seek to adapt what we're presenting and make the challenges tougher and tougher, particularly as we get better and better", says Haly, who himself commanded an RAAF fighter squadron. "We're always stretching and training," he adds.
The process also allows teams to experiment with new tactics and procedures. Haly says the experience is particularly valuable for Australian crews, of whom only a small portion attend a Red Flag each year.
"We're always bringing new people into it and we're always propagating new knowledge across it."