The USA has deployed an unspecified number of its stealthy Lockheed Martin F-22 Raptor air superiority fighters to the Middle East, following what Washington calls "increasingly unsafe and unprofessional behaviour" by Russian aircraft in the region.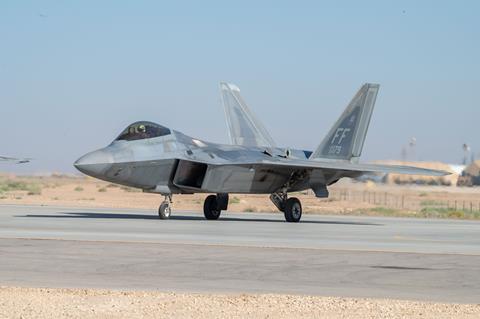 The Pentagon's Central Command (CENTCOM), which oversees operations in the Middle East and Southwest Asia, said on 14 June it was deploying the vaunted fifth-generation fighters as part of a "multifaceted show of US support and capability".
"Russian Forces' unsafe and unprofessional behaviour is not what we expect from a professional air force," says CENTCOM commander General Michael Kurilla.
"Their regular violation of agreed upon airspace deconfliction measures increases the risk of escalation or miscalculation," he adds, without providing specifics.
Moscow did not immediately comment on the deployment or the accusation of reckless activity.
Both the USA and Russia operate combat aircraft over Syria, with American aviators supporting ground operations against the Islamic State terrorist group – also known as Daesh. The Russian air force has for years provided support to Syrian president Bashar al-Assad, helping the Damascus government gain the upper hand in a protracted civil war.
Multiple videos released by CENTCOM in April show Russian fighters intercepting US military aircraft. The top US Air Force (USAF) officer in the Middle East, Lieutenant General Alexus Grynkewich, described those manoeuvres as "increasingly bellicose", in remarks to publication Defense One.
"They're aggressively manoeuvring, almost like they're trying to dogfight," Grynkewich said in April.
Military commanders from Washington and Moscow famously maintain a so-called "deconfliction line" in Syria, through which they share information about planned sorties to prevent unintended and potentially lethal encounters between aircraft.
Despite that effort, tensions in the conflicted airspace have produced casualties. In 2015, NATO member Turkey shot down a Russian jet that strayed into Turkish airspace, according to Ankara.
The advanced F-22, which CENTCOM describes as the "best fifth-generation fighter in the world", is now operating in that area.
CENTCOM on 14 June released photos showing two F-22s landing at an undisclosed desert airfield somewhere in the region. Video from the same day shows an F-22 flying alongside Lockheed F-16 fighters.
The photos were taken on 12 June, according to the USAF. The aircraft and pilots were supplied by the 94th Fighter Squadron, based at Langley AFB in Virginia.
F-22s in action over the Middle East:
Source US Air Forces Central