The USA says it is open to approving a transfer of Lockheed Martin F-16 fighter jets to Ukraine, the first time Washington has publicly indicated favour for the idea.
Top US diplomat secretary of state Anthony Blinken recently sent a letter to his European counterparts, according to the Department of Defense, signalling a "willingness to approve the third-party transfer of US-made F-16 aircraft to Ukraine".
The state department, along with Congress, must approve the new sale or transfer of sophisticated weapons made in the USA.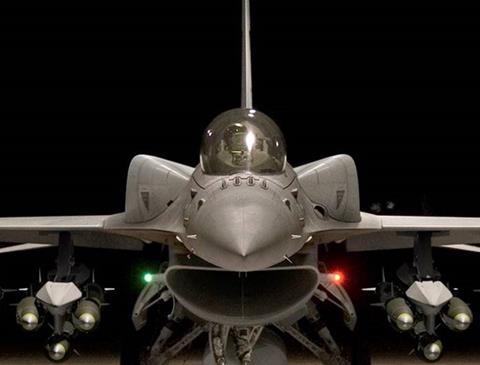 Blinken's letter preceded the 20 August announcement by the leaders of Denmark and the Netherlands that those two countries will provide Ukraine with F-16s from their own fleets.
Now the Pentagon is outlining the conditions that must be met for Washington to approve such transfer.
"In order for the third-party transfer to be completed, there are certain criteria that have to be met, including English language training [and] other things like logistics on the ground," said deputy Pentagon press secretary Sabrina Singh on 21 August.
"So once that criteria is met, we'll be in a position to authorise the transfer," she adds.
Separately, US national security advisor Jake Sullivan said on 18 August that US approval would not come before pilot training has been completed.
At the NATO summit in July, Denmark and the Netherlands announced they would lead F-16 training for Ukrainian air force pilots and groundcrew, a move the USA quietly approved.
Although the USA at the time said only that it would support the two NATO members in conducting the flight training, Washington is now going a step further.
The Pentagon says it will contribute American fighter pilots to the training effort, "if there were more Ukrainian pilots in need of training than what the Europeans are able to handle".
Such instruction could even take place within the USA, according to Singh.
"[We're] open to training existing pilots if capacity is reached in Europe," she says.
Speaking on 22 August, defence department press secretary Brigadier General Pat Ryder said the Pentagon has not yet determined where such training would occur within the USA, should the need arise.
Kyiv has been vigorously advocating for its Western allies to provide the Ukrainian air force with F-16s – a move the Biden Administration and Pentagon officers had been reluctant to endorse until now.
Ukrainian President Volodymyr Zelensky in a 21 August Facebook post said his country would receive 42 F-16s from the Netherlands and 19 from Denmark.
The announcement comes as Zelensky has been touring Europe to meet with friendly governments supporting Kyiv's war efforts.
The Ukrainian president also revealed Ukrainian pilots are testing the Swedish-made Saab Gripen fighter.
"We discussed further steps to transfer them to Ukraine," Zelensky said, following a meeting Swedish prime minister Ulf Kristersson.