In a rapid reversal of its previous opposition to sending Ukraine Lockheed Martin F-16 fighter jets, the USA will not only approve such a deal, but will also join European allies in actively training Ukrainian pilots.
The Pentagon on 24 August said Washington will bring Ukrainian air force personnel to air bases in the USA for flight and maintainer training in the coming weeks.
"We anticipate it will include several pilots and dozens of maintainers," says Pentagon press secretary Brigadier General Pat Ryder.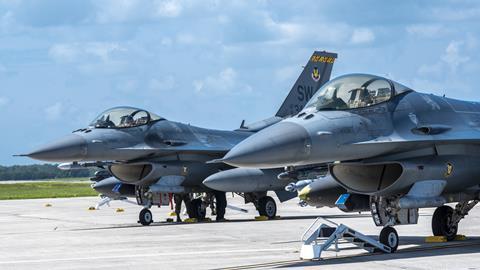 The course of instruction will begin in September, with English language lessons. Subsequent flight training will commence in October at Morris Air National Guard Base in Tucson, Arizona.
Ryder notes the inclusion of language lessons is driven by the "complexities and the specialised English" required to fly the high-performance fighter aircraft.
The training programme in the USA will run in parallel to similar efforts already underway in Europe, overseen by Denmark and the Netherlands. The two NATO member states have taken the lead in Ukraine's so-called "fighter coalition" effort, being the first countries to pledge training support for Kyiv, as well as lobbying Washington to approve the transfer of American-made F-16s.
On 20 August, the prime ministers of Denmark and the Netherlands declared they would provide dozens of the single-engined fighters to Ukraine, even before Washington had approved such a transfer. Ukrainian President Volodymyr Zelensky said the Netherlands would provide 42 aircraft, while Denmark offered 19 of the multi-role fighters.
The Pentagon had said as recently as 22 August that the USA was open to hosting its own F-16 training for the Ukrainian air force, but only if instructional capacity in Europe was exceeded.
Ryder says the decision to expand the training programme was made proactively, in an attempt to avoid a bottleneck in the future.
"We want to do everything we can to help move this effort along as quickly as possible," the one-star general notes. "At a certain point in time in the future, capacity will be reached," he adds.
The Pentagon did not address the total number of pilots and aircraft expected to be covered under the multi-national F-16 deal. Ryder says Kyiv will determine how many pilots it wants to train.
Even with pledges of aircraft and training, any F-16s Ukraine does receive likely will not arrive on the battlefield until well into 2024 at the earliest.
"We're talking months, not weeks," Ryder says.
Washington says it will not approve any transfer of aircraft – required under US export law – until flight and maintainer training has been completed. Ryder notes it takes approximately five months to certify an already experienced American pilot on the F-16 and around eight months to fully certify a more novice aviator.
The training pipeline for a new US officer holding a basic pilot's license includes introductory instruction in formation flying, basic fighter manoeuvres and weapons employment, Ryder says.
From there, trainees will go through centrifuge training on the ground and advanced instruction in air combat manoeuvring, providing close air support, suppression of enemy air defences and mission planning.
"Those are the kinds of things that go into training a fighter pilot," Ryder says.
He adds that the F-16 comes with "significant" logistics and maintenance requirements to keep the jet airworthy. Ryder says Ukrainian personnel undergoing ground support training will include fuellers, air traffic controllers, mechanics and communications technicians.
While there will undoubtedly be pressure to get the F-16s into front line service as quickly as possible, Ryder says Washington's priority will be ensuring the $14 million aircraft are able to be used effectively – which means thorough and complete training for Ukrainian personnel.
"You don't want to rush a pilot and train him in a high-performance combat aircraft, and then put them in harm's way not fully prepared," Ryder notes.
Although Kyiv has issued increasingly forceful calls to be provided with Western fighter aircraft, military and political leaders in Washington remained sceptical of the idea, until very recently.
The top American military officer – chairman of the joint chiefs of staff General Mark Milley – in July said fighter aircraft were not Ukraine's most pressing battlefield need, suggesting air defence systems would be a faster and more cost-effective way of mitigating Russian air power.
Pentagon operations director Lieutenant General Douglas Sims expressed a similar sentiment on13 July, describing battlefield conditions in Ukraine as "not ideal" for the employment of non-stealth F-16s.
"The Russians still possess some air defence capability. They have [air-to-air] capability," Sims said. "The number of F-16s that would be provided may not be perfect for what's going on right now."
Despite that assessment, six weeks later Washington now appears to be fully supportive of Kyiv's request.
The evolution follows a similar trend for other advanced weapon systems, including air defence batteries and armoured ground vehicles, in which the Biden Administration shows initial reluctance before ultimately approving a transfer.