The Pentagon is moving to provide Ukraine with Raytheon-produced air-to-air missiles, following Washington's commitment to approve the transfer of Lockheed Martin F-16 fighters to the Ukrainian air force (UAF).
A 31 August US government contract announcement says munitions producer RTX – formerly known as Raytheon Technologies – won a $192 million indefinite-delivery, indefinite-quantity contract involving its Advanced Medium Range Air-to-Air Missiles, better known as AIM-120 AMRAAMs.
Under the deal, RTX will "purchase AMRAAMs from various sources, that will then be tested and ultimately delivered to Ukraine", the company says.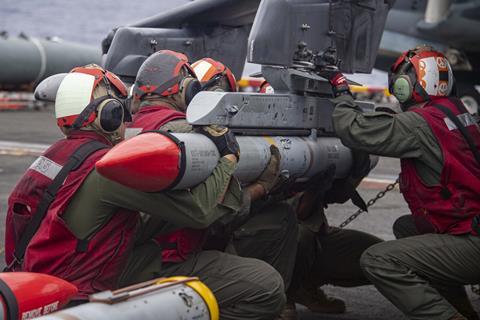 The contract announcement says an initial $7.7 million in funds have been allocated for the missiles from the USA's fiscal year 2023 Ukraine Security Assistance Initiative. Washington has committed some $43.7 billion in security assistance to Kyiv since Russia invaded the country February 2022.
"AMRAAM's success to date makes it an essential munition for Ukraine," says Paul Ferraro, president of air power for RTX's defence subsidiary Raytheon. "This contract will allow us to partner with the US government to get more missiles where they're needed most as quickly as possible."
Raytheon did not specify how many missiles the 31 August contract will include. A $605 million AMRAAM purchase request by Sweden was approved in July, covering 250 missiles, along with spare parts and support services.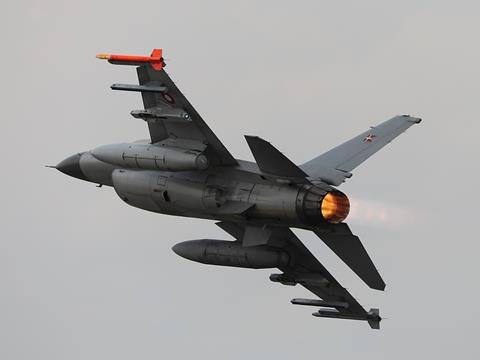 Separately, Ukraine was among numerous countries designated to receive AMRAAMs under a massive $1.15 billion US government contract with RTX, announced in June. That deal covered production of missiles destined for US services and for Bahrain, Belgium, Bulgaria, Canada, Finland, Hungary, Italy, Japan, the Netherlands, Norway, Qatar, Saudi Arabia, Singapore, South Korea, Spain, Switzerland and the UK.
AMRAAMs are already being used by Ukrainian forces as ammunition for the National Advanced Surface-to-Air Missile System air defence platform provided by Washington.
The deal to provide Kyiv with precision fighter munitions follows recent commitments by the USA to help train UAF pilots and ground crew on F-16 operations, and eventually approve a third-party transfer of the single-engined jets to Ukraine from other European operators.
Denmark and the Netherlands have committed to supplying Ukraine with F-16s from their own fleets, as both countries acquire the more-advanced Lockheed F-35 stealth fighter.