The Niger air force has taken delivery of a third Lockheed Martin C-130H Hercules cargo transport, donated by the US government.
The handover took place on 4 January at Air Base 101 in the capital Niamey, according to the Pentagon's Africa Command (AFRICOM). The US embassy in Niamey confirmed the transfer on 5 January.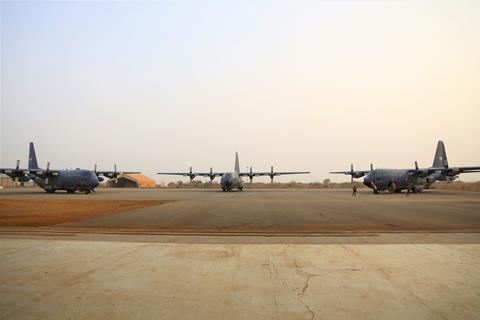 "Our charge d'affaires Susan N'Garnim handed over the third C-130 cargo plane to the Nigerien armed forces," the embassy says. "This new aircraft will be used to train elements of the Niger air force."
Washington initiated the C-130 initiative with Niger in 2015. The $30 million programme covered three aircraft, ground-based infrastructure to support operations and training of Nigerien flight crews and maintenance personnel.
The USA's top diplomat in Niger, N'Garnim, in 2021 said the goal of the programme was to "ensure Niger has adequate facilities to fly and maintain these capable aircraft".
The aircraft transfers are part of a broader initiative led by AFRICOM to build defence capacity in the Sahel region of Africa and combat the growing influence of terrorist and violent militant groups in the region. France led a similar, nine-year effort in neighbouring Mali until 2022, when Paris withdrew its military forces.
In 2019, the Pentagon opened a $110 million facility at Nigerien Air Base 201 in the city of Agadez. The installation hosts US Air Force unmanned air vehicles used to support the counter-terrorism effort, including with lethal strikes.
Deliveries under the Nigerien C-130 programme began in 2021, with aircraft turnovers in January and December. At the time of the second delivery, N'Garnim praised the "enduring partnership" between Niger and the USA, and its impact on local security.
"Strategically, the Nigerien armed forces have shown tremendous dedication in professionalising its forces," the American diplomat said. "Doing so ensures their women and men are prepared to fight security threats in the Sahel."