The US Air Force (USAF) and Boeing have conducted the critical design review (CDR) for the developmental T-7A Red Hawk advanced jet trainer.
Participants in the three-day meeting, which followed 18 months of development work, met virtually owing to the coronavirus pandemic, the service says.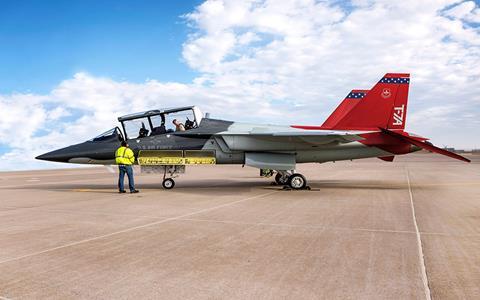 "This is an important step forward in the life of this programme," says Shanika Sims, air vehicle branch chief. "This design review further solidifies the aircraft and subsystem designs, bringing the T-7A Red Hawk closer to production."
The CDR looked at the platform's ability to train novice pilots bound for fourth- and fifth-generation fighters. Key focus areas included the jet's escape system, engine integration, and external pylons.
"The combined government and Boeing team continues to leverage outside-the-box thinking, process tailoring, and are 'breaking the norms' by utilising advanced engineering digital design practices to design, test and produce aircraft, enabling faster delivery of a high-quality product to the warfighter," says Sims.
In 2018 Boeing secured a long-awaited contract worth $9.2 billion to replace the USAF's fleet of Northrop T-38s with 351 T-7As and 46 simulators.
Boeing is partnered with Saab in the T-7A programme. The type is powered by a single GE Aviation F404 engine.
In addition to the USAF training mission, Boeing foresees opportunities to sell the type internationally. It also expects that the T-7A could eventually move on to perform roles beyond the training mission.
The type conducted its first flight in December 2016, and Boeing has produced two examples.