The USA's fleet of Northrop Grumman B-2 Spirit strategic stealth bombers is indefinitely grounded following an emergency landing that damaged one of the multi-billion dollar aircraft.
The US Air Force (USAF) says the incident occurred on 10 December, when one of its B-2s experienced "an in-flight malfunction during routine operations" and made an emergency landing at Whiteman AFB, Missouri, the home station of the B-2 fleet.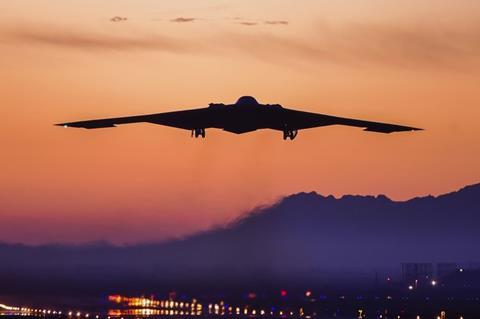 While the USAF has not disclosed the nature of the malfunction or the extent of damage to the aircraft, the 509th Bomb Wing acknowledges "there was a fire associated with aircraft after landing", which airfield fire fighters extinguished.
No munitions were aboard the aircraft and no personnel sustained injuries during the incident, according to the USAF.
However, the sole runway at Whiteman AFB was damaged and is closed. The USAF has placed the B-2 fleet into a "safety pause", halting flight operations for an indeterminate period.
"Our number one concern is the safety and security of our personnel and fleet," says Colonel Daniel Diehl, commander of the 509th Bomb Wing that oversees B-2 operations.
The advanced aircraft, which are valued at around $2.1 billion each, are expected to resume operations following the completion of an investigation into the cause of the accident.
The USAF says details of the investigation will be released upon its completion.
This marks the second rough landing in two years for the B-2. In 2021, another of the type experienced landing gear failure while landing at Whiteman and skidded off the runway.
Before the latest incident, the USAF had 20 B-2s in service, according to service figures. The aircraft's hefty price tag, along with challenges related to maintaining the B-2's stealthy radar-absorbent exterior surface, reduced the service's total procurement to 21 from an original plan of 132 airframes.
One B-2 was removed from service in 2008 following a crash at Andersen AFB in Guam. In that incident, a moisture-related sensor malfunction shortly after take-off led to a loss of control that forced the pilots to eject and resulted in the destruction of the aircraft.
The type is the USA's only nuclear-capable stealth bomber. The USAF plans for the B-2's successor – the Northrop B-21 Raider – to enter service later this decade.
The service has set a procurement target of 100 aircraft for the B-21 programme.