The US Air Force's (USAF's) top officer says his service aims by year-end to reach a decision about future propulsion for Lockheed Martin's F-35 Joint Strike Fighter.
General Charles Brown made the remarks on 20 September at the Air & Space Forces Association's (AFA's) annual conference near Washington, DC.
"We would like to get through a decision this year," says Brown.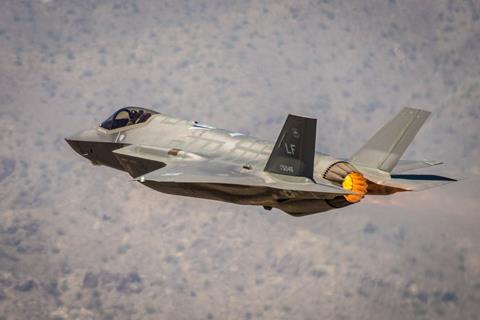 At issue is whether the USAF's F-35As will receive an entirely new powerplant, or whether the service will upgrade the type's existing Pratt & Whitney F135 engine.
The advanced fifth-generation aircraft, which carries an increasingly powerful array onboard sensors, has outpaced the power generation and cooling envelopes of its original engine. P&W says F135s are capable of meeting current demands but require more-frequent maintenance as a result.
In 2016, the USAF gave $1 billion each to P&W and GE Aviation to design competing new powerplants for F-35s under an initiative called the Adaptive Engine Transition Program (AETP). So-called adaptive engines can adjust internal airflow to provide the high performance of a conventional fighter and the cruising efficiency of a commercial jet.
GE says it completed final testing of its AETP prototype, the XA100, earlier this month.
P&W is developing its XA101 for the programme. But it is also offering an alternate option – an F135 upgrade called the Enhanced Engine Package (EEP).
The company says the EEP core upgrade represents a substantially cheaper and faster option for addressing the power and cooling issues, without requiring a total engine replacement.
While the USAF has shown interest in the increased thrust and acceleration that AETP engines offer, service leaders have also expressed cost concerns.
The US Navy and US Marine Corps, which operate the F-35C and F-35B variants, have expressed little interest in buying a new engine, meaning the USAF might be on the hook for the total programme cost.
Speaking at the AFA event, Brown declines to say which way the USAF is leaning. He says it is working with other services and the Department of Defense to reach a solution.
"We want to look at all the options," he says.
The USAF recently issued nearly $5 billion in contracts to five defence contractors, including GE and P&W, to develop adaptive engines for its Next Generation Adaptive Propulsion programme, which will provide a powerplant for an envisioned sixth-generation fighter.