For the first time, a commercial operator has provided air-to-air refuelling services to US Air Force (USAF) military aircraft.
American aviation services provider Metrea flew the mission, refuelling USAF Boeing RC-135 Rivet Joint and Boeing E-3 Sentry aircraft during a recent military exercise over Nevada known as Resolute Hunter.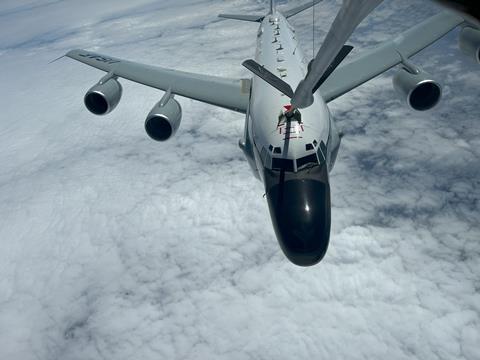 "While US Navy [USN] and Marine Corps units regularly use commercial aerial refuelling services for training and support, this marks the first time that US Air Force aircraft have used commercial aerial refuelling," Metrea said on 13 July.
Exercise Resolute Hunter is a bi-annual set of drills focused on improving battle management, command and control, and ISR activities, according to the USN. The exercise incorporates the USAF, USN and Air National Guard, and equivalent services from the UK, Canada and Australia.
Metrea's privately-owned Boeing KC-135 Stratotankers flew four aerial refuelling missions during the most-recent iteration of Resolute Hunter. From 23-29 June, Metrea flight crews offloaded 40,823kg (90,000lb) of fuel to USAF aircraft via 13 boom contacts, the company says.
"We look forward to supporting more US Air Force refuelling requirements as well as increasing demand from allies and partners," says Jon Thomas, head of Metrea's air and space group.
Metrea's sprawling portfolio of services includes airborne intelligence, surveillance and reconnaissance, tactical helicopter training, special mobility transportation and MRO services.
The company's strategic mobility division, which provides air-to-air refuelling services, is based in Temecula, California. Metrea operates a fleet of four KC-135R tankers, which it purchased from Singapore in 2020.
The Metrea Strategic Mobility (MSM) unit that provides in-flight refuelling services boasts a 93% mission-reliability rate since the start of a USN contract in 2021.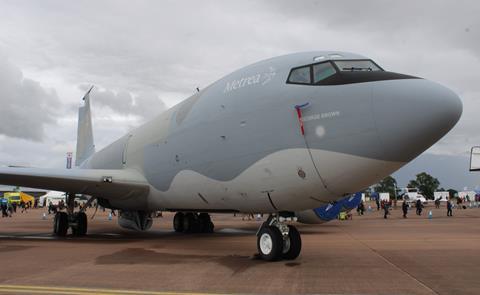 "The combined Metrea aviation units have flown over 130,000 accident-free flying hours, across multiple aircraft types, missions and geographies in support of US, UK and other allied and partner government national security objectives," the company says.
MSM also offers crew training for customers seeking to develop their own air-to-air refuelling capability. On its website, the company says it was founded in 2020 to "work on filling the gaps in US [Department of Defense] refuelling capabilities."
The company is headquartered in Washington DC, with other aviation business units based in Tampa, Florida and Oklahoma City.