The Pentagon has located the crash site of a US Marine Corps (USMC) Lockheed Martin F-35B fighter more than 12 hours after the pilot ejected and the aircraft went missing.
Joint Base Charleston, which had been coordinating a search of the area some 60 miles (100km) north of Charleston, South Carolina, confirmed military recovery crews and local law enforcement found the crash site on 18 September in rural Williamsburg County.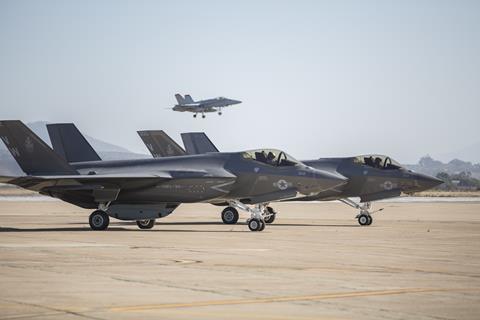 "Members of the community should avoid the area as the recovery team secures the debris field," the base says. "We are transferring incident command to the USMC this evening, as they begin the recovery process."
The wreckage was located approximately 16 hours after the pilot of a USMC F-35B ejected at around 14:00 local time on 17 September. Personnel from the US Navy, multiple USMC installations, the Federal Aviation Administration and the Civil Air Patrol were involved in the search.
The Pentagon has not yet released the cause of the accident, nor has the Department of Defense offered an explanation as to why it took so long to locate the advanced fighter.
After asking the public for help in locating the jet on 17 September, an official from Joint Base Charleston suggested the F-35's stealthy profile and radar absorbent coating impeded tracking.
What is known is that the crash represents the third serious incident involving a USMC aircraft in the past six weeks.
Acting USMC commandant General Eric Smith on 18 September ordered a two-day halt on all the aviation operations worldwide to "discuss aviation safety matters and best practices".
Smith previously directed a service-wide safety review after the crash of a USMC Bell Boeing MV-22 Osprey in Australia killed four personnel in August. That directive did not specifically mention aviation safety.
The USMC says the latest "safety stand down" will invest time and energy into "reinforcing the Marine aviation community's established policies, practices and procedures".
"During the stand down, aviation commanders will lead discussions with their Marines focusing on the fundamentals of safe flight operations, ground safety, maintenance and flight procedures and maintaining combat readiness," Smith's directive says.
"This stand down is being taken to ensure the service is maintaining operational standardisation of combat-ready aircraft with well-prepared pilots and crews," he adds.
Despite those measures, the marine corps has a troubled history when it comes to aviation safety.
Data published by the National Commission on Military Aviation Safety in 2022 showed the USMC's rate of "Class A" mishaps – the most serious category – was substantially higher than that of the other service branches.

Ryan Finnerty is the Americas defence reporter for FlightGlobal.com and Flight International magazine, covering military aviation and the defence industry. He is a former United States Army officer and previously reported for America's National Public Radio system in New York and Hawaii covering energy, economics and military affairs.
View full Profile