Looking to expand on recent defence sales success in Europe, Brazilian airframer Embraer has its sights set firmly on the USA.
The company is particularly keen on the prospects for its KC-390 Millennium, which continues to rack up new orders. The multi-role jet is designed to perform as both an aerial refuelling tanker and cargo transport, without any post-factory modifications.
The C-390's versatility – and low maintenance costs – have secured Embraer contracts from Portugal, Hungary, and the company's home air force in Brazil, plus selection by the Netherlands.
On 20 September, Austria joined that list when defence minister Klaudia Tanner announced Vienna will purchase four C-390s to replace a current fleet of three Lockheed Martin C-130K turboprops.
"I think we've been very successful with the different platforms in defence around the world," says Frederico Lemos, the new chief commercial officer for Embraer Defense & Security.
Lemos spoke with FlightGlobal on 12 September, at the annual Air Space Cyber (ASC) conference near Washington DC.
He attributes the recent defence wins at Embraer – which is best known for producing regional and business jets – to the company's focus on high-performance at a good value.
"They deliver well, they address complex requirements from the best air forces and [have] the lowest life cycle costs," Lemos says of Embraer's military offerings.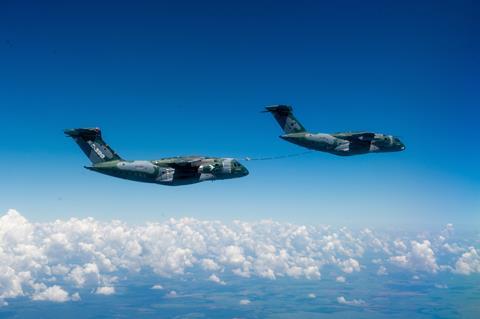 The numbers support his claims. The jet-powered C-390 edges out its main competitor – Lockheed's latest C-130J-30 Super Hercules – on several key metrics.
The twin-engined Millennium boasts a greater payload, faster cruising speed, and has a slightly higher service ceiling. The four-engined C-130 turboprop offers greater range, albeit while carrying a cargo load weighing approximately 4,540kg (10,000lb) less.
The C-130 can land on slightly shorter runway, but the C-390's International Aero Engines V2500 turbofans allow the Millennium to take off over a lesser distance, using a smaller wingspan.
Lemos thinks the strategy of capability-at-an-affordable-price will also see results within the USA, where the Pentagon has opted almost universally for domestic giants Boeing and Lockheed to supply its fleet of fixed-wing support aircraft.
"We believe that those pillars of value will also be important for the US," Lemos notes.
The thrust into North America is hardly new. Embraer in 2018 announced a joint venture with Boeing to market the C-390 globally.
At ASC 2022, the airframer launched a partnership with L3Harris to develop the Millennium type into a so-called "agile tanker" – a nod to the recent focus within the US Air Force (USAF) on flying distributed operations from many smaller, austere runways rather than a few highly-developed hubs.
At the time, L3Harris chief executive Christopher Kubasik called the KC-390 a "cost effective, fast-to-field solution" for the USAF's agile combat employment (ACE) concept.
While Embraer will not be dethroning Lockheed or Boeing in terms of market share any time soon, the transport and tanker segments are ripe for disruption.
Lockheed's C-130 alone makes up 20% of the global military transport fleet, according to Cirium fleets data, with the KC-130J variant representing 23% of aerial refuellers worldwide.
Boeing dominates the global tanker market, with the KC-135 accounting for 49% of currently operating aircraft. The figure edges beyond 65% when the company's other types are added, including the KC-46 and KC-10.
Embraer wants a piece of those markets and thinks the KC-390 is the right aircraft to accomplish that.
"We see a lot of potential coming from the value that the platform brings," Lemos says.
Austria's selection of the C-390 backs that up. In announcing Vienna's choice, Tanner noted: "Embraer's aircraft is the only one in the 20-ton [payload] class that meets all of our requirements."
In the USA, Embraer is marketing the KC-390 for special operations, aerial refuelling and cargo transport mission sets across all services of the US military.
"There's nothing in that segment that is comparable to the C-390," Lemos argues.
Under the partnership with L3Harris, Embraer has developed both a probe-and-drogue and boom capability for aerial refuelling on the KC-390 – a nod to the different requirements of the USAF and US Navy.
Lemos also touts the twin-engined Millennium's ability to take-off and land on short, unimproved runways – an attribute Embraer says will appeal to the air force's ACE strategy.
"This is a more versatile platform than the current strategic airlifters," he argues.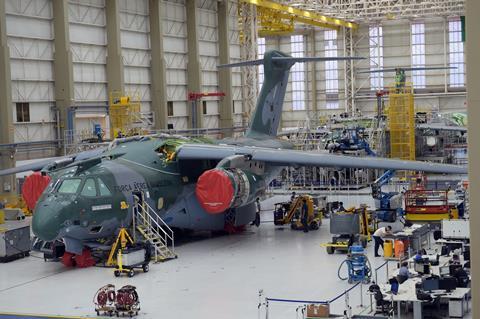 To date there has been no overt discussion of a KC-390 acquisition by the Pentagon, but Lemos says Embraer is providing information to all potential US customers.
The head of acquisitions for US Special Operations Command in May indicated the USA's elite troops are currently focused on developing a new high-speed vertical lift aircraft and modifying a C-130 for maritime operations, rather than acquiring a new tactical tanker.
The USAF is in the midst of a significant pivot in its aerial refuelling strategy, accelerating development of a next-generation stealth tanker while considering an additional KC-46 buy from Boeing against a new offering from Lockheed and Airbus; the A330-based LMXT.
Embraer sees nothing but opportunity, according to Lemos.
"We are really putting resources and effort, thinking on how are we going to address the US market," he says.
Reliability of the KC-390 is one Embraer's main talking points when pitching the Pentagon brass. Lemos notes aircraft availability has been the "main decision factor" for Embraer's European customers.
Current C-390 operator Brazil logged an aircraft readiness rate of 80% and a 99.7% mission completion rate during the period after initial operating capability, according to Embraer.
Lemos calls those figures "unseen" in another military platform.