The Biden administration has reportedly thrown out a design for the new presidential aircraft favoured by Biden's predecessor Donald Trump.
Politico reported on 10 July that the White House has opted to scrap the planned paint scheme for the new Air Force One that was chosen by former President Trump.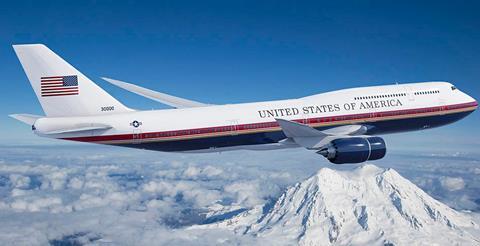 That design featured dark blue paint covering the engines and fuselage underbelly, with red and white accents above. It represented a departure from the longstanding blue-and-white paint job that has been the executive jet's signature look since the administration of president John F Kennedy.
The current executive aircraft, a heavily modified Boeing 747 officially known as the VC-25A, also sports the blue-and-white body.
Trump himself was actively involved in both contract negotiations and aesthetic design for jet, repeatedly tweeting and speaking publicly about the programme – at times airing dissatisfaction with the prime contractor, Boeing.
The airframer was awarded a $3.9 billion contract from the US Air Force (USAF) in 2018 to design and produce the VC-25B.
The paint change is just the latest snag for a programme that has been fraught with delays and cost overruns, as FlightGlobal has reported.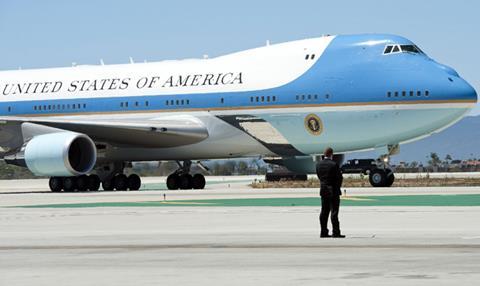 The project is believed by the US Government Accountability Office to be at least a year behind schedule, and Boeing reported $660 million in cost overruns on the aircraft during the first quarter of 2022.
Now, the USAF says there are safety concerns with the previously planned dark coloured underbelly, it tells FlightGlobal.
"Further analysis concluded darker colours, among other factors, on the underside of the VC-25B aircraft might contribute to temperatures exceeding the current qualification limits of a small number of components on the aircraft," USAF spokesperson Ann Stefanek said on 10 June.
She also says the red, white and blue paint scheme was "one of many possible livery colours" proposed for the VC-25B, indicating that a change would be possible.
The USAF referred all inquiries about the actual decision to change the paint scheme to the White House.
Politico cites an unnamed administration official as saying the "Trump paint scheme" would have created engineering delays and driven up costs.
An alternative design has not yet been released. Boeing declines to comment on the matter, referring all inquiries to the USAF.