American Airlines has removed some Boeing 787s from its winter flight schedule due to Boeing's ongoing pause of 787 deliveries which have quality issues.
"We continue to work with Boeing to finalise the timing of our delayed 787-8 deliveries that were expected to arrive in 2021," says American chief financial officer Derek Kerr on 21 October.
"Due to the continued uncertainty in the delivery schedule, we have proactively removed these aircraft from our winter schedule to minimise potential passenger disruption," Kerr adds, speaking during American's third-quarter earnings call.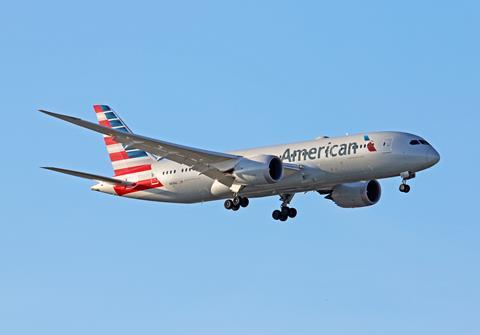 He specifies that American pulled the jets from its fourth-quarter 2021 and first-quarter 2022 schedule.
Kerr does not say how many aircraft American removed, but the company tells FlightGlobal it has received just one of the 13 787s it had previously expected to receive from Boeing in 2021.
American's current fleet includes 46 787s, and the company has another 43 of the jets on order with Boeing, according to Cirium data.
Boeing stopped delivering 787s from October 2020 to March, then again starting in May due to quality problems.
The issues involve gaps between fuselage sections that do not meet incredibly tight tolerances, the company says. The most-recent delivery pause, which remains in effect, occurred after the Federal Aviation Administration said it needed more data from Boeing related to the fuselage issue.
"We had assumed they were going to be in the schedule," Kerr adds. "We have pilots. We have crews ready to fly those aircraft. But we unfortunately had to pull them out of the schedule."
Story updated on 22 October to note that the FAA said it needed more data from Boeing before 787 deliveries could resume.