Aerolineas Argentinas is to take a dozen Embraer 195-E2 regional jets to upgrade its existing fleet of smaller E190 aircraft.
Deliveries of new jets will begin next year and will be complete in 2026, the Buenos Aires-based carrier says.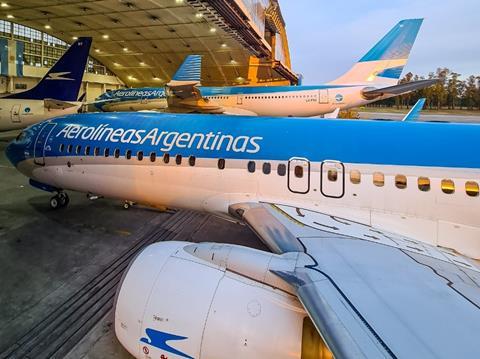 The E195-E2 jets have 136 seats, 40 more than the carrier's E190s.
Aerolineas Argentinas president Pablo Ceriani says: "With this agreement we managed to modernise our fleet, increase productivity and reduce the cost per seat."
The airline says the new order marks "an expansion and renewal" of its fleet, without specifying how many of its existing E190s will be replaced. The airline operates 26 E190s – five of which Cirium fleets data shows are currently in storage.
Aerolineas Argentinas is in the process of renewing its wider fleet. The airline on 9 October took delivery of a new Airbus A330-200, while its ninth Boeing 737 Max was due to join the fleet on 11 October. These aircraft take the carrier's fleet to 84.