Air Baltic chief executive Martin Gauss has called on engine and aircraft manufacturers to find solutions to the supply-chain issues that are continuing to ground the carrier's Airbus A220s for prolonged periods during maintenance.
Speaking to FlightGlobal at the IATA AGM in Doha – during which he met with manufacturers to discuss the problem – Gauss says that as a result of the overhaul delays, Air Baltic is still having to wet-lease capacity to "bridge the gaps", with Cirium fleets data suggesting the usually all-A220 operator has recently had a Boeing 737-400, an Airbus A319 and a Fokker 100 operating in its fleet, among others.
A lack of spare parts for the A220's Pratt & Whitney PW1500G engines are the biggest issue, Gauss says, although he notes that other sections of the aircraft have been a problem too.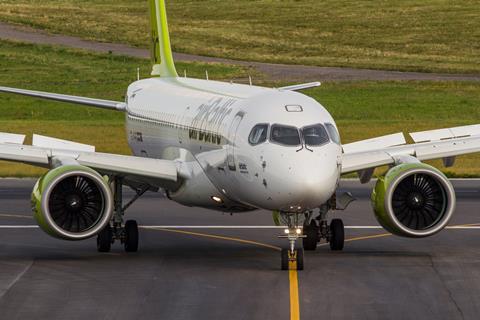 "The main supply-chain issue is parts for the engines when they go for overhaul," he states. "The engines are shipped for overhaul, then they need certain parts.
"These parts are, according to Pratt & Whitney, not available. So the engine comes back delayed and that means the engine change is not happening – the aircraft sits there and waits for the engine.
"And of course, we are unhappy that we are forced to keep aircraft, which we pay every month for, on the ground because of that."
The Air Baltic chief further notes that "it's a rolling issue, you can't predict it", and that it is having a cost impact because the carrier "can't keep our utilisation up".
"We want to maximise our use of very expense assets," Gauss explains.
Although he acknowledges that supply-chain issues are a global problem – and that his airline is not alone in seeing the impact of parts shortages – Gauss wants to see "action" from the manufacturers "to produce more spares".
"As we have to recruit people, pay more for staff, the manufacturers of goods will have to take action so they start reducing the supply-chain issues," he states. "There will be logistic issues on the planet and they will have to look for alternatives."
A Pratt & Whitney company spokesperson says: "Like many in the industry, we have experienced supply-chain challenges with structural castings and other parts, which have resulted in production engine delivery delays.
"We continue to work on mitigation strategies with our supply base and expect pressures to begin to ease in the second half, which will support both our OE [original equipment] and MRO output plans."
Gauss clarifies that the airline cannot respond to the prolonged groundings by returning to its own operations some of the 11 or so A220s that Air Baltic is wet-leasing to Eurowings and SAS.
"Wet-leasing is part of the business plan – we made it clear that part of the fleet will earn money by flying for others," he states. "That's a commitment – I cannot pull off the aircraft that I have contracted to someone else."
In any case, Gauss says, the spares problem exists whether the A220s are undertaking Air Baltic operations or flights for another carrier.
"It would just be moving the problem around," he says.