Air Canada has ordered another 18 Boeing 787s and taken options to purchase a further 12 of the widebody jets as part of broader plan to renew its fleet.
The Montreal-based airline disclosed the agreement on 25 September, saying all the newly ordered jets will be 787-10s, the largest variant of the Boeing type.
As part of the deal, Air Canada cancelled orders for two 777 Freighters, it adds.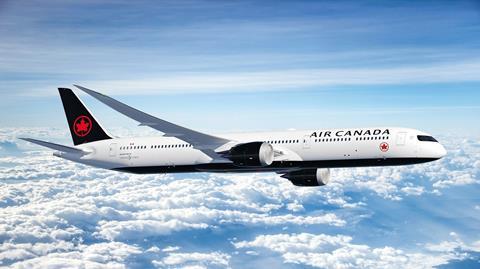 "Our experience shows customers greatly enjoy flying on the Dreamliner, so we are pleased to offer them a larger version of this popular aircraft, which will premier a new state-of-the-art interior cabin design," says Air Canada chief executive Michael Rousseau.
Air Canada, which already operates the two other 787 variants (-8s and -9s), expects to receive the 18 787-10s between the fourth quarter of 2025 and the first quarter of 2027.
"They will be used to replace older, less-efficient widebody aircraft currently in the Air Canada fleet," the airline says, adding that the 12 order options will provide "flexibility for growth to meet future customer demand".
An early 787 customer, Air Canada already operates 38 of the type, including eight 787-8s and 30 787-9s. Its twin-aisle fleet also includes 24 777s, seven 767s and 18 Airbus A330s.
"The 787-10 will provide Air Canada with greater flexibility and commonality across its expansive network, connecting Canadians to destinations around the world," says Boeing Commercial Airplanes chief executive Stan Deal.