Air France-KLM chief executive Ben Smith believes the ability to adjust the pace of its widebody fleet renewal gives it the necessary agility to counter any aircraft deliveries delays with right-sized aircraft.
Airbus and Boeing continue to face challenges ramping up aircraft deliveries amid supply chain pressures and, speaking during a first-quarter results call today, Smith says the group foresees that continuing for the next few years.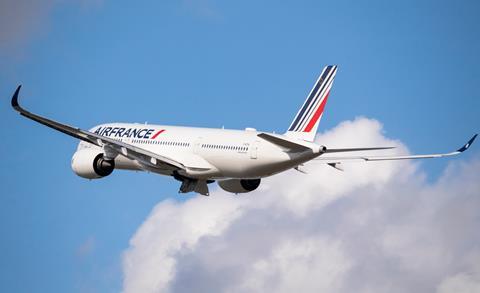 That, together with related challenges in securing components to support the existing fleet, has prompted carriers to retain older aircraft for longer or to bring some other types back into service. Lufthansa, for example, will restore Airbus A380-operated flights next month in a bid to secure more capacity.
Air France was also an A380 operator prior to the pandemic, but almost immediately took a definitive decision to remove the type permanently. Smith though highlights the flexibility in its ongoing fleet renewal with Airbus A350 and Boeing 787s, under which it has been due to remove up to 41 widebodies -- a mix of Boeing 777-200s and Airbus A330s -- from late 2022 into early 2024.
"Many of these aircraft are owned," he says, noting that means it can keep these aircraft for longer than planned to "balance out capacity [and] demand… to maximise profits".
Smith argues this means it can be more agile in reacting if new widebody deliveries are delayed. "We are happy we have those airplanes available if necessary, so not A380s that some of our competitors need to activate, but mid-sized airplanes with 250-300 seats," he says.
He also believes its widebody mix gives it the right aircraft to react to incoming widebody competition, though Smith notes at present it is not seeing a return to the levels of rival capacity it faced before the pandemic.
"When we look at the capacity of our major competitors coming into both Amsterdam and Paris, we don't see any growth in our major markets," he says.
Smith notes that prior to the pandemic Norwegian had eight Boeing 787s based at Paris Charles de Gaulle. "We have one new 787 from Norse [Atlantic Airways], which is the first new lower-cost entrant into Paris. Today we don't see any major growth in that capacity. So [there's] tight capacity. We are enjoying that period and we expect that to continue at least for the short-term.
"But we do know eventually it will come back," he adds. "So we continue on our medium to long-term plan on the type of aircraft we are bringing in to give us more flexibility.
"Our Airbus A380s are now out and that is really helpful when we start to see our competitors move into routes. We can move capacity around in a relatively quick way without completely disrupting our bank structure. These new A350s we have at Air France and 787-10s at KLM are proving to be the right choice of aircraft."