Air Lease Corporation says the company has cancelled three Boeing 787 Dreamliner orders due to the airframer's ongoing issues with the type.
That said, even though the aircraft remains its primary worry, executives say the company could deliver up to 16 of the widebodies next year if and when the US airframer begins to restart its deliveries.
"Our main concern is the ongoing 787 delivery freeze," John Plueger, the company's chief executive officer, says on 4 November. "We were scheduled to receive 10 new 787s by the end of the year. At this juncture we are uncertain we will be able to receive any of our 787s by the end of the year."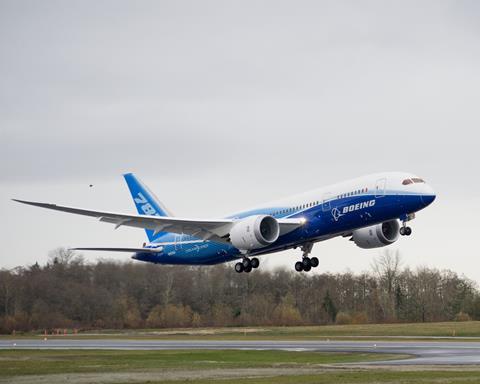 "In some cases these aircraft are or will be more than 12 months late and as such we have cancelled three 787s," he adds.
Executive chairman Steven Udvar-Hazy adds that the company's "big question mark" remains the 787.
"This year we took delivery of three 787-9s in the second quarter which we leased on long term contracts to China Southern, but since then we have not taken any 787s not because we don't want to but because Boeing has been unable to deliver us the aircraft with certificates of airworthiness," he says.
"If there is a recovery in the 787 deliveries next year, we could be looking at as many as 12-16 787s in 2022," he adds. "So, there could be a catch up…in the second or third quarter next year."
Boeing stopped delivering 787s from October 2020 to March, then again beginning in May due to quality problems.
The issues involve gaps between fuselage sections that do not meet incredibly tight tolerances, the company has said. The most-recent delivery pause, which remains in effect, occurred after the Federal Aviation Administration said it needed more data from Boeing related to the fuselage issue.
The Chicago-headquartered airframer has reduced 787 output to two jets per month.
Other aircraft types from Boeing and Airbus are either on schedule, or have minor delays of just a few weeks, Udvar-Hazy says on the company's third-quarter earnings call.
Narrowbody aircraft demand is "at or in some cases above pre-pandemic levels", executives say.
"We have more demand on the single-aisle than we have supply, and airlines are looking to place further and further out," Plueger adds, adding that airlines are already discussing deliveries scheduled for 2026.
"It shows you how far forward the airlines are looking," he says. "What they fervently believe is that this is going to be a very high demand period."
But while the company says it will likely increase its ratio of single-aisle to widebody aircraft going forward, demand for the latter will remain, and Pleuger adds that the company is committed to continuing to offer those as well.
"I don't ever see us dropping widebody orders," he says. "In the long term widebodies will always have a role. Once international markets open up you will see just exactly the level of surge and demand we are seeing today. That demand has to be filled by aircraft, including widebody aircraft."