American Airlines, Virgin Atlantic Airways and aircraft lessor Avolon have agreed to purchase up to 1,000 of Vertical Aerospace's in-development VA-X4 air taxis, though the deals remain subject to various conditions.
American and Avolon also disclosed on 10 June their intention to become equity investors in Vertical, which is working toward certification of the electric vertical take-off and landing (eVTOL) aircraft.
Additionally, Vertical on 10 June revealed a plan to become a publicly traded company via a merger with London-based Broadstone Acquisition, which is already traded on the New York Stock Exchange.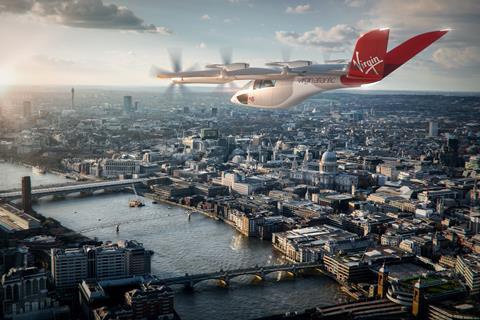 "This is not yet a committed order and, with aircraft development still under way, the final order value is yet to be confirmed," says Virgin of its agreement with Vertical.
That agreement gives Virgin options to purchase 50 to 150 VA-X4s and to explore "a UK joint venture with Vertical Aerospace to deliver a Virgin Atlantic-branded short-haul eVTOL network".
American agreed to "pre-order" as many as 250 VA-X4s, "representing a potential pre-order commitment of $1 billion", says the Fort Worth, Texas-based airline.
American, which has option to purchase an additional 100 VA-X4s, says its agreement is "subject to certain future agreed-upon milestones and other terms".
Avolon, based in Dublin, "will order" as many as 500 VA-X4s – a deal the lessor says could be worth $2 billion. It plans an "initial" purchase of 310 VA-X4s for an estimated $1.25 billion and has options to buy another 190 aircraft for $750 million, Avolon says.
That commitment is "subject to certain closing conditions", including "appropriate operating, delivery and business requirements being met", Avolon says. The deal "places Avolon at the forefront of technological change in the industry and underlines Avolon's belief in the electrification of air transport".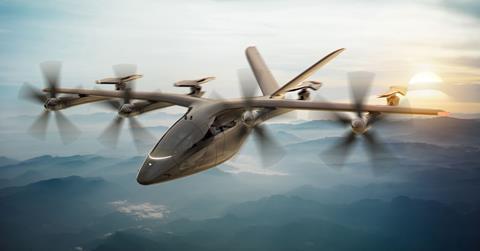 The deals give Vertical "conditional pre-orders" for 1,000 VA-X4s, the developer says.
Unclear is whether the potential buyers put any money down as part of their orders. Neither American, Avolon, Vertical or Virgin responded to questions about deposits.
However, American says it "expects to make a $25 million investment in Vertical", and Avolon says it "will" become an equity investor.
Vertical says other investors include Honeywell, Rolls-Royce, Microsoft's venture capital arm M12, 40 North and Rocket Internet SE.
Only American disclosed a dollar figure of its planned investment; other companies not respond to requests for more information.
Vertical unveiled its eVTOL aircraft in August 2020. The company says the aircraft will carry five people (including one pilot), fly at speeds exceeding 174kt (322km/h) and have range exceeding 87nm (161km).
VA-X4 will have a high-aspect-ratio wing, a carbon-fibre airframe, four forward tilting rotors, four after "stowable" rotors and an electric power train developed partly by Rolls-Royce, according to Vertical.
Headed by entrepreneur Stephen Fitzpatrick, Vertical intends for its VA-X4 to complete first flight this year and to receive type certification from UK and EU regulators in 2024.
Vertical's team includes executives who formerly worked at companies including Airbus – among them former Airbus Urban Mobility CEO Eduardo Dominguez – General Dynamics and R-R.
Vertical's go-public plan, via combination with Broadstone, will create a $1.8 billion company, says Broadstone, a so-called special purpose acquisition company (SPAC).
Broadstone expects the merger will close in the second half of 2021, says Broadstone chair Hugh Osmond.
The deal marks the latest in a string of aerospace companies that plan to go public through mergers with SPACs. Others include eVTOL maker Archer Aerospace, which has partnered with public company Atlas Crest Investment, and another air taxi competitor, Joby Aviation, which plans to join with Reinvent Technology Partners.