Canadian leisure carrier Air Transat maintains that it will not be immediately impacted by Pratt & Whintey's recently announced recall of hundreds of PW1100G geared turbofans (GTF) engines, which power the airline's fleet of Airbus A321LRs.
Chief executive Annick Guerard said during parent company Transat AT's quarterly earnings call on 14 September that the airline has spare GTF engines on hand that will help it mitigate operational disruptions next year.
"We've been working closely with Pratt & Whitney to better assess the challenges, but based on our understanding so far the impact will be minimal and manageable for 2024, and this will give us time to work on a contingency plan for 2025," she says.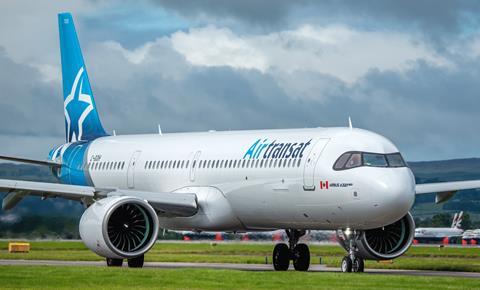 The Montreal-based carrier anticipates that it likely will not be forced to take engines off-wing for extended periods until 2025, Guerard says.
"We have spare engines, so we are able to mitigate at least for 2024," she says.
On 11 September, P&W parent RTX revealed the full impact of defective high-pressure turbine and compressor discs in PW1100Gs, which is one of two engine options offered by Airbus for A320neo-family jets.
The company now expects "an average of 350" GTF-powered A320neos will be grounded "from 2024 through 2026, with a peak of 600 to 650 aircraft-on-ground in the first half of 2024".
Some airlines stand to be deeply impacted by the recall. Hawaiian Airlines' chief executive Peter Ingram told FlightGlobal on 12 September that he is frustrated by the lack of spare PW1100Gs – and by RTX's plan to continue delivering engines for new Airbus jets.
"I think there needs to be a level of respect paid to people who bought the aircraft already," he said.
Transat leadership does not yet know how many aircraft will be affected by the recall as the company awaits a service bulletin from P&W.
"Regarding the A321LRs, we are still waiting to hear more information," Guerard says. "We don't know the exact number."
Cirium fleets data show that Transat currently has 14 A321LRs in service and one in storage, with five more of the type on order.
Transat AT reports making C$57.3 million ($43.5 million) during its fiscal third quarter – its first quarterly profit since late 2019.