AirAsia Group has revised its fleet plan for 2021, ending the year with four more aircraft than previously forecast.
In briefing slides released alongside its second-quarter earnings, the group states it will have a fleet of 235 aircraft by the end of 2021.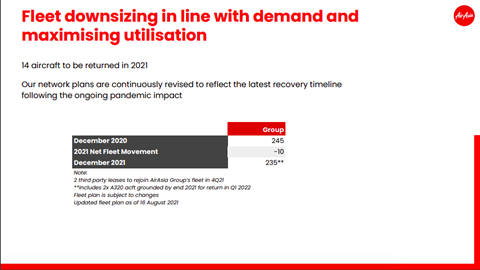 In March, AirAsia Group forecast having 231 jets across its units by year-end, which itself was higher than a previous estimate of 221 aircraft.
In its latest fleet plan, the group did not provide a breakdown of the fleet movement within its units in Malaysia, Indonesia, Thailand, Philippines and India.
Instead, it says 14 aircraft will be leaving the fleet, with two "third party leases to rejoin" the group fleet in the last quarter of the calendar year, and another two grounded aircraft that are slated to return to fleet in the first quarter of 2022.
This brings the net decrease of aircraft to 10 examples, compared to end-2020.
"Our network plans are continuously revised to reflect the latest recovery timeline following the ongoing pandemic impact," the company adds.
AirAsia Group expects its airline units to see a "gradual pick-up" in travel demand by year-end — particularly in domestic operations — as restrictions ease with higher vaccination rates.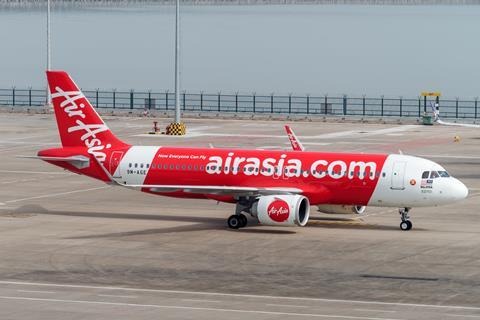 The group narrowed its second-quarter losses on the back of a surge in revenue, posting a consolidated operating loss of MYR653 million ($157 million).
Against a dismal operating environment in 2020, the group more than doubled its revenue, to MYR371 million, while costs came down 21% year on year to MYR1.05 billion.