Lessor Aircastle has posted a $5.8 million profit for the third quarter ended 30 September, a significant drop on the same quarter last year when the lessor made $43.3 million in profit.
Total lease revenue for the three months was down 12.5% to $189 million, while total revenues dropped 18.8% to $192 million.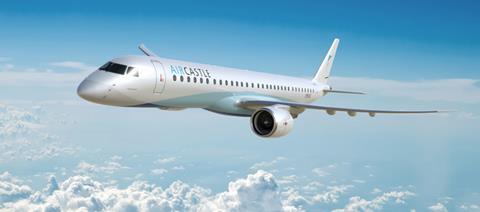 The lessor ended September with cash and restricted cash of $389 million.
Like most lessors, Aircastle has been impacted by deferral requests from its airline customers. It says it continues to grant deferrals to help certain clients manage through the crisis.
As of 30 October, it had executed documents or had approved deferral arrangements with 40 lessees representing approximately 50% of its customer base. The amount deferred currently approximates $101 million, including $80 million that appears in its 30 September consolidated balance sheet. This represented approximately 14% of its reported lease rental and direct financing and sales-type lease revenues for the trailing 12 months ended 30 September.
As of 30 September, Aircastle owned 262 aircraft and other flight equipment, having a net book value of $7 billion. This is down from 268 aircraft and other flight equipment with a net book value of $7.74 billion a year prior.
It also manages nine aircraft with a net book value of $318 million on behalf of its joint venture with Mizuho Leasing.
Aircastle's weighted average fleet age as of 30 September has increased to 10.4 years from 9.8 at the same time in 2019, while its weighted average remaining lease term decreased to 4.2 years from 4.8.
Weighted average fleet utilisation also dropped to 93.8% at 30 September from 98.8% one year prior.
It also has agreements in place to sell 21 narrowbody aircraft as they come off lease.
The lessor's chief executive Mike Inglese expressed his optimism that the market will recover post-Covid.
"We are optimistic about the eventual recovery of global aviation and the global airline industry. While it is impossible to predict the timing of recovery, we are confident passengers will return, and we are confident about the increasingly important role operating leasing will play in facilitating the industry's recovery," he says.
"Aircastle's fleet of predominantly mid-age, single-aisle, fuel efficient aircraft represents a strong value proposition for capital constrained, sensibly managed airlines around the globe. Our management team is deep and experienced, and we enjoy the strong shareholder support of Marubeni Corporation and Mizuho Leasing. Driven by our strategic ownership, management's track record, minimal forward commitments, strong liquidity and conservative balance sheet, Aircastle's investment grade credit rating was recently affirmed at Baa3 by Moody's."