Norwegian says the market for leased aircraft has become tighter as it considers when to act on plans to add 10-20 aircraft in 2022.
Speaking during a second-quarter results briefing today, the Scandinavian low-cost carrier's chief executive Geir Karlsen reiterated that the airline intends to end 2022 with up to 70 aircraft in its fleet, from 51 today.
But as the restructured Norwegian considers when to secure those jets – which it would bring into service in the second and third quarters of next year – Karlsen observes that the leasing market "is definitely tightening up – it's getting more expensive".
That development follows a period during which the market has been awash with second-hand jets, leading to stories of carriers – including Norse Atlantic Airways, which is seeking to take advantage of Norwegian's retreat from long-haul sectors – securing jets at historically low rates as other operators scale back amid the impact of the Covid-19 pandemic.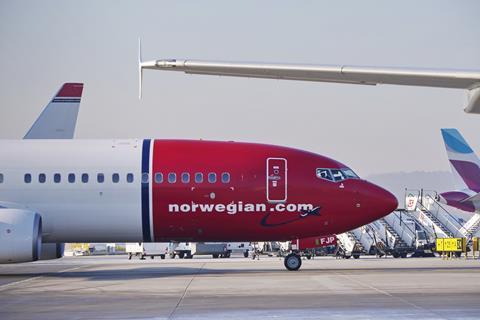 Despite the change in leasing market dynamics, however, Norwegian is still "very excited to start looking at how we can start sourcing aircraft for the years to come", Karlsen says, adding: "We have to take some decisions over the next couple of months over how aggressive we would like to be."
Today, Norwegian's fleet of 51 Boeing 737-800s is not yet fully operational, with "more than 40" aircraft flying during August, Karlsen states, at a load factor of around 70%.
Bookings are on an upward curve, he says, noting that "September is also looking very good – it's still not enough, but it's very good".
The aim for the coming winter season is to preserve the business's cash position, Karlsen says, as work continues to reshape the airline for future growth.
Norwegian recently announced that it intends to serve more than 250 routes for the summer of 2022, all of them either within or originating from Scandinavia.
"We have created a company that has the right fleet, the right balance sheet, the right cost level," Karlsen says.