Ambitious Indian low-cost carrier Akasa Air has become the first Asia-Pacific operator to take delivery of a higher-density Boeing 737 Max.
Akasa signed for the Max 8-200 as part of a wider 72-strong order for 737-8s placed at the 2021 Dubai air show.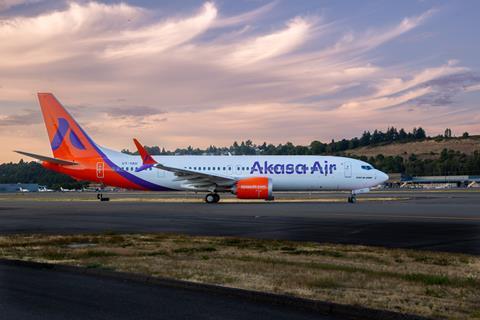 The carrier took delivery of its first 737 Max just over a year ago ahead of its launch of services last August. The new delivery takes its fleet up to 20 aircraft – the threshold under which Indian carriers are clear to operate international services.
Ryanair became the first Max 8-200 operator – a high-density variant that has 197 seats and an extra pair of exit doors – in the summer of 2021.
Akasa Air chief executive Vinay Dube says: "Today's landmark addition to our fleet heralds the international chapter of growth in Akasa's story, and makes us extremely optimistic about our future.
"Going from zero to 20 aircraft within 12 months is not just an Akasa record but a record that encapsulates the potential of our great country and one for our whole nation to be proud of."
Dube said in an interview with Indian news outlet The Economic Times that Akasa Air is "still on track" to announce a potential order for at least 100 new aircraft – and its first international routes – by the end of the year.
Akasa has carried over 4 million passengers since launch across a network covering 35 domestic routes connecting 16 Indian cities.