Alaska Airlines' cargo arm has added its first Boeing 737-800 as it plans to increase "flexibility and capacity" on routes throughout Alaska and the contiguous USA.
Alaska Air Cargo said on 14 November that the 737-800 – previously one of Alaska's passenger-carrying aircraft – was converted into a freighter by Boeing.
A second 737-800BCF will join Alaska Air Cargo's existing trio of 737-700 freighters early next year, giving the carrier a fleet of five narrowbody Boeing jets – "essentially doubling our current fleet's payload capacity and laying the foundation for future growth", Alaska says.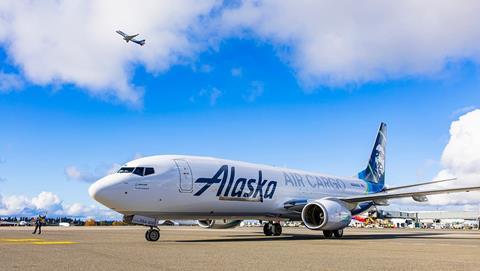 The larger 737-800BCFs can carry 4,536kg (10,000lb) more than 737-700s, the carrier says: "With a configuration that also holds more containers, our fleet will have 40% additional space… for essential goods like groceries, medical supplies and building materials travelling to communities in Alaska."
The increased capacity will be first directed toward the Alaskan cities of Bethel, Juneau, Ketchikan and Sitka. The carrier flies to 20 communities in Alaska, and elsewhere in the USA.
Alaska Air Cargo says it has made infrastructure improvements and new equipment throughout Alaska to support the growth of its freighter fleet.
"The conversion of passenger aircraft -800s to freighters allows us to build cargo capacity for the long haul," says managing director Adam Drouhard.
The freighters are being certificated to fly long distances over open water, allowing for potential nonstop routes from small Alaskan communities such as King Salmon to Seattle, Washington.
"With both bigger freighters in service next year, we'll also be able to transport more of the state's abundant fresh seafood, including the hundreds of thousands of pounds of sustainable Bristol Bay sockeye salmon that we carry to the lower 48 at the height of summer," Alaska says.
Last month, Alaska Airlines retired the last of its Airbus A321s and now operates an all-Boeing fleet of 737s.