Alaska Airlines will retire 10 of the Airbus A320 aircraft it owns earlier than intended, accelerating its cost-saving transition back to the all-Boeing fleet structure it operated before acquiring Virgin America.
The Seattle-based carrier expects an impairment charge for accelerating the retirement of these aircraft after determining "the carrying value was no longer recoverable", it disclosed on 1 October in a filing to the US Securities and Exchange Commission. Alaska has not disclosed a timetable for its plan to remove the A320s from its fleet, which will cost them an impairment charge because they are being financed.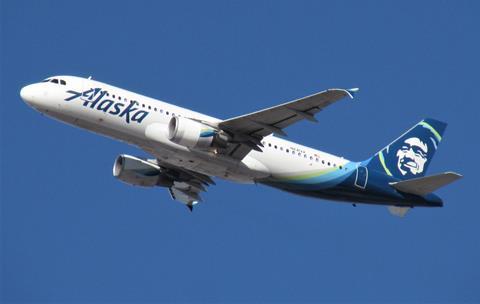 "The charges are expected to range from $115 million to $125 million, but are still subject to finalization," Alaska states, adding that it will evaluate future options for these aircraft.
These 10 owned A320s are each around five years old, Cirium fleets data shows. This means Alaska will likely sell the aircraft rather than scrap them for parts, says Cirium aviation analyst Syed Zaidi.
"The reasons aren't to do with the A320s, it's just to do with costs," Zaidi says. "The A320 family is still in demand but there is a natural drop in values during the current climate. These aircraft are so young that they are not going to a second-tier operator."
Alaska inherited its Airbus fleet and orders for 30 A320neos through its acquisition of Virgin America, which completed in 2018. Prior to that Alaska had an all-Boeing fleet, and Alaska president Ben Minicucci has spoken in the past about the costs of having separate maintenance contracts and flight crews for both Airbus and Boeing fleets.
With travel demand in a downturn amid the coronavirus pandemic the carrier no longer needs the extra capacity provided by its Airbus fleet to complement its Boeing fleet. Alaska already removed 12 A319s from its fleet in May and previously announced plans to remove the 10 owned A320s.
Members of its Airbus support staff are also likely to be furloughed. Alaska has already begun involuntary furloughs of its staff after the expiration of the CARES Act payroll support programme on 1 October. The carrier in June said it would cut 3,000 jobs from its workforce of 23,000 people to save costs if the CARES Act were not extended. Negotiations in Congress remained stalled about whether to extend the payroll programme to subsidise airline workers.
Alaska has 41 A320s, 10 of which are owned and 31 of which are leased, Cirium fleets data shows.
"The leases on those other A320s will likely not be extended and eventually returned to lessors," Zaidi says.
Alaska's Boeing fleet includes 166 737NG family aircraft, along with 32 firm orders for 737 Max aircraft. The transition away from an Airbus fleet could have happened faster if not for the grounding of Max aircraft following two fatal crashes, Zaidi says.
The carrier does not yet have a replacement for the 10 A321neos in its fleet that can make the long-distance flights Alaska operates between the East and West Coasts of the USA. Zaidi says the A321neos will likely be the last Airbus aircraft to be removed from Alaska's fleet.
Alaska Air Group on 28 September agreed to accept a federal CARES Act loan for non-payroll expenses from the US Treasury for up to $1.3 billion, which could be increased to $1.9 billion pending final approval. Alaska borrowed an initial $135 million through this agreement with an annual interest rate of 2.87%. For collateral, Alaska will secure the loan with seven Boeing 737 aircraft; 18 CFM International engines; six Embraer E175 aircraft; 15 General Electric engines; and three Pratt & Whitney engines.
Several carriers including Delta Air Lines and Spirit Airlines have instead opted to seek loans from the private sector. Alaska will still need to cut costs to be able to pay back the loan, so fleets and staff changes remain part of its strategy.