Alaska Airlines has agreed to sell the last 10 of its Airbus A321neos to American Airlines, with deliveries expected to begin before year-end.
The Seattle-headquartered carrier disclosed the deal, which was negotiated over an 18-month period, during its quarterly earnings call on 19 October.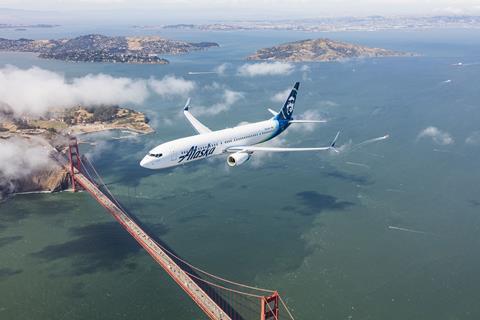 The Seattle-headquartered carrier stopped flying the last of its Airbus narrowbodies last month, allowing it to move forward with a long-planned all-Boeing fleet of 737s. It had acquired the jets in 2016 as part of its acquisition of Virgin America.
Alaska's final revenue A321 flight was on 30 September, "marking our official return to single fleet", chief executive Ben Minicucci said on 19 October. "We brought our dual-fleet chapter to a close and are poised to fully recognise the power of single-fleet efficiencies as we move into 2024."
The carrier had been leasing the aircraft under agreements that were to run another six to eight years.
"We've purchased the planes from the lessor, and will then sell the planes to American," says Emily Halverson, vice-president of finance.
Company executives says the airline's Airbus-trained pilots should be "turned over to Boeing" by the end of the fourth quarter.
Alaska also took delivery of five new 737 Max during the third quarter, while regional subsidiary Horizon Air took two additional Embraer 175s.
American operates a mixed fleet of Airbus and Boeing aircraft, with 287 A321s and 131 A319s in service, according to Cirium fleets data.