Ultra low-cost carrier Allegiant Air has amended its agreement with Boeing to add options for up to 30 more 737 Max, and changed the mix of 737 variants it plans to acquire.
The Las Vegas-based company said on 3 October that last week it amended a January 2022 deal with Boeing that had included orders 50 737 Max jets and options for 50 more.
"Under the amended agreements, the mix of 737 Max 8-200 and 737 Max 7 aircraft has been altered so that there will be more 737 Max 8-200 aircraft and fewer 737 Max 7 aircraft," the company says in a filing with the US Securities and Exchange Commission. "The amended agreements reflect a revised delivery schedule with the first delivery due under the amendment in late 2023 and the delivery schedule for the initial 50 aircraft to now extend through late 2025."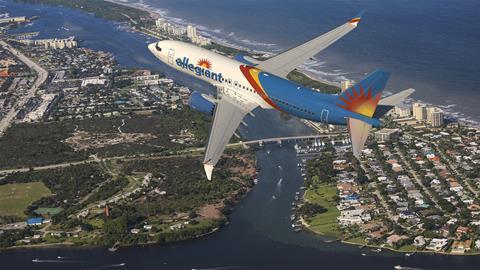 "In addition, the amended agreement now provides for revised terms to acquire as many as 80 (in total) additional 737 Max aircraft, subject to the terms of the agreement," Allegiant adds.
The airline currently operates an all-Airbus narrowbody fleet but decided to add Boeing jets for the first time with that January 2022 order.
The Max 8-200 is a high-density variant of the baseline Max 8 currently being operated by Ryanair and Akasa Air. It can carry up to 210 passengers and has an extra pair of exit doors. Allegiant says it has shifted six 737 Max 7 jets to the 8-200 model.
Between December 2023 and October 2025 the airline says it now expects "approximately two aircraft per month" to be delivered.
The Max 7 remains uncertified by the US Federal Aviation Administration, while its larger siblings, the Max 8 and 9, have been flying for several years. Last month, Boeing received an exemption allowing the FAA to certificate the 737 Max 7 even though the type's stall-management system fails to meet certain certification requirements.
Earlier in the day, Allegiant said it had secured $412 million in financing for 11 narrowbody jets – seven Airbus A320ceos and four 737 Max.