Allegiant Travel, parent of US ultra-low-cost carrier Allegiant Air, has ordered 50 Boeing 737 Max jets and taken options to acquire a further 50, with deliveries starting in 2023.
The Las Vegas-based company will acquire both 737 Max 7s and 737 Max 8-200s – a high-density variant of the baseline Max 8, Allegiant said on 5 January.
Confirmation of the order follows a 4 January report that Allegiant had been close to finalising the purchase.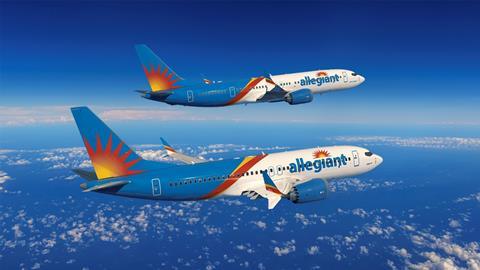 The deal is a major win for Boeing and notable in that Allegiant has aligned itself with the US manufacturer. Currently, Allegiant Air flies only Airbus A320-family jets.
"Our approach to fleet has always been opportunistic, and this exciting transaction with Boeing is no exception," says Allegiant chief executive Maurice Gallagher.
Allegiant has long been known for jumping on attractive aircraft acquisition deals as they arise – hence Gallagher's use of the word "opportunistic".
The airline company has not specified how it will split the order between Max 7s and Max 8-200s. Deliveries will continue in 2024 and 2025, Allegiant says.
The Max 7 is the smallest version of the Max family, with capacity to carry up to 172 passengers in a single-class configuration. The variant remains in the certification process, with Boeing anticipating it will deliver the first of the type this year.
Max 7s have been relatively slow sellers, with Boeing holding just orders for just 256 Max 7s, mostly from Southwest Airlines, according to Cirium fleets data.
Max 8-200s have an extra set of over-wing exit doors and other modifications that let it carry up to 210 passengers. The high-density jet has proven popular with some discount airlines, including Ryanair, which has acquired the type.
Allegiant's 737 order also marks a shift by the airline away from its typical strategy of acquiring used, not new, jets.
"Allegiant's unique [ultra-low-cost carrier] business model has been primarily focused on high-quality used aircraft to maintain lower fixed costs," the company says. "However, the pandemic recovery cycle has brought to Allegiant unique opportunities to acquire new equipment, including this aircraft-family solution."
Allegiant also contracted with engine maker CFM International to maintain the jets' Leap-1B turbofans for 12 years, it says.
Story corrected on 6 January to note the 737 Max 8-200 can carry up to 210 passengers, not up to 197.