US ultra-low-cost carrier Allegiant Air on 3 October disclosed that it has secured $412 million in financing for 11 narrowbody jets – seven Airbus A320ceos and four Boeing 737 Max aircraft.
The carrier currently operates an all-Airbus fleet but has a deal to purchase up to 130 737 Max 7s and Max 8-200s – a high-density variant of the baseline Max 8.
The Las Vegas-based discounter says the deal includes financing commitments from European bank BNP Paribas and global aircraft lessor Jackson Square Aviation, securing its "financing needs into the second quarter of 2024".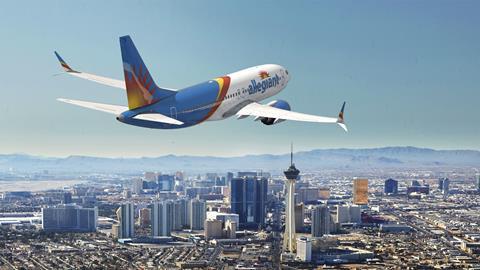 "We are delighted with BNP Paribas and Jackson Square's creativity in providing what we believe is an efficient framework that affords us robust liquidity to support foundational investments in our fleet," says Robert Neal, Allegiant's chief financial officer. "This transaction taps into young A320ceo aircraft and will also serve as the inaugural financing for our Boeing 737 Max equipment."
While its financing relationship with BNP Paribas goes back more than a decade and "has been instrumental in our growth as an ultra-low-cost leader", Allegiant says that it is partnering with Jackson Square for the first time.
"Combining the strengths of [Jackson Square] and BNP Paribas, we're able to provide an efficient financing solution for Allegiant's fleet of in-service Airbus A320s and next generation [Max 8-200s], which we're also excited to introduce as a first into our portfolio," says Chris Dailey, Jackson Square's chief commercial officer.
Allegiant drew down $196 million of the financing package on 29 September and the remainder will be drawn "commensurate with its initial 737 Max deliveries", the company says.
During Allegiant's second-quarter earnings call on 2 August, company executives disclosed that deliveries of its first two Max jets had been delayed by about a month, pushing one delivery into 2024.
The carrier is still expecting to take its first Max aircraft at the end of 2023 and to begin operating the type early next year. "Our 2023 capacity plans are not impacted by this delay," chief revenue officer Drew Wells said at the time.
The carrier currently operates a fleet of 127 A319 and A320 aircraft, with plans to grow its fleet to more than 200 aircraft over the next five years.