American Airlines has ordered another four Embraer 175 regional jets, which it intends to deploy into the fleet of its subsidiary regional carrier Envoy Air.
The Brazilian aircraft manufacturer disclosed the order on 19 October, saying it expects to deliver the aircraft to Fort Worth, Texas-based American during the fourth quarter of 2024.
The deal is worth $231 million at list prices, Embraer says.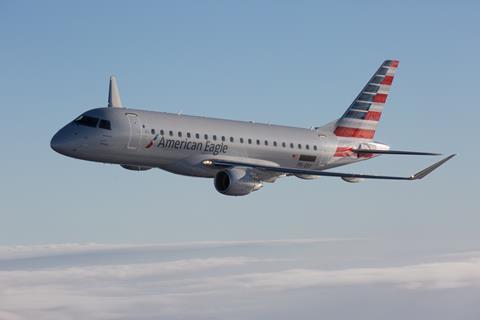 "The E175 allows us to provide an excellent and reliable service to American Airlines and the thousands of guests we serve everyday," says Envoy chief executive Pedro Fabregas.
The incoming E175s will build on Envoy's already massive E-Jet fleet, which at the end of 2022 stood at 119 aircraft, including eight E170s and 101 E175s, according to American's most-recent fleet report.
The airline in June ordered seven E175s and at the end of September held total outstanding orders for 11 E175s.
"This new order demonstrates once more the importance of the E175 to connectivity across the United States, and is another sign that the challenges the market has been facing are improving," says Embraer Commercial Aviation chief commercial officer Martyn Holmes.