Asiana Airlines will resume operating its Airbus A380s from late-June, to ease a shortage of seats amid an "explosive" increase in travel demand as borders reopen.
The South Korean carrier says it will deploy the superjumbo on two routes "with high travel demand": Los Angeles and Bangkok.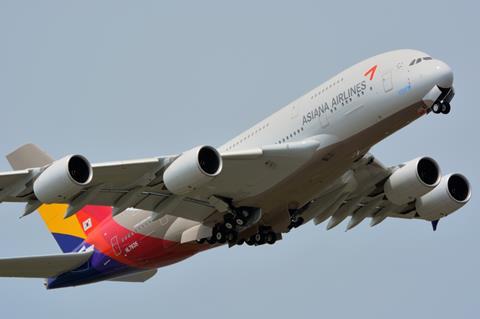 It will resume A380 operations into Los Angeles from 23 July, with the aircraft operating three flights a week.
As for Bangkok, which Asiana says is a "popular tourist destination", the A380 will operate daily flights from 25 June.
Explaining its decision to deploy the A380s, Asiana says the superjumbo offers more seats - including in premium classes - compared to existing aircraft operating the routes, without the need for additional frequencies.
Asiana operates the A330 to Bangkok and the A350 to Los Angeles currently. At 495 seats, the A380 offers more than 180 additional seats per flight.
"There has been continuous requests…for expansion as the number of passengers increased sharply after Covid-19 restrictions were lifted. Both routes had a load factor of about 90% in May, and the Los Angeles route was in high demand, with two flights a day," says the Star Alliance carrier.
Cirium fleets data shows that Asiana has a fleet of six stored A380s, powered by Rolls-Royce Trent 970s.
The move follows compatriot Korean Air's decision to redeploy its A380s to New York from July. Other Asia-Pacific carriers, including Singapore Airlines, All Nippon Airways and Qantas, have also returned their superjumbos to service.