Colombia's Avianca is streamlining its fleet with a goal of flying passengers exclusively with Airbus A320s and Boeing 787 Dreamliners by June 2023.
The 103-year-old Bogota-based carrier is expecting deliveries of 16 A320neos, 11 A320ceos and three 787s in 2023, it said during a press conference at Avianca's corporate headquarters in Bogota on 6 December.
Prior to the Covid-19 pandemic, the airline's fleet also included A319s, A330s, ATR42s and ATR72s.
"We're moving to the 787, the 320neo and the 320ceo and we're getting rid of everything else," Frederico Pedreira, Avianca's chief operating officer, told FlightGlobal during a 7 December interview in Bogota.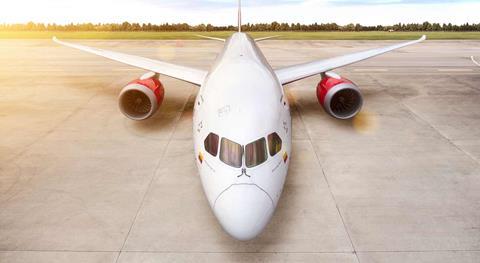 Avianca will keep a few A319s as backup for scheduled services and charters, but will otherwise move forward with a more uniform fleet that will simplify the airline's maintenance operations, Pedreira says. The company has orders for 88 new A320s through 2030.
Following a broad trend among Latin American carriers, Avianca is transitioning to a low-cost business model in the wake of filing for Chapter 11 bankruptcy in May 2020, when Covid-19-driven travel bans grounded fleets across the region.
The recovering airline has expanded its network to include 67 destinations in Latin America, the Caribbean and North America, with 22 routes introduced in 2022, and is also pursuing tie-ups with three fellow Latin Amerian carriers – Gol, Sky Airlines and Viva Air.
Avianca plans to join Brazilian operator Gol as subsidiaries of a holding company called Abra Group. The transaction, expected go through in the first month of 2023, doesn't need approval from the Colombian government because there is no operational overlap between the two airlines. Under the deal, which has been approved by Brazilian authorities, Avianca and Gol will keep their operations and brands separate, Pedreira says.
Avianca is also manoeuvring to acquire the financially struggling low-cost competitor Viva Air, which operates in Colombia and Peru. In April, the two companies made a deal to form a joint holding company, for which Avianca requested accelerated regulatory approval due to concerns about Viva's ability to compete in the face of increased financial pressure.
On 8 November, Colombia's aviation regulator, Aerocivil, rejected the tie-up, saying it would represent a "setback" for competition in the region as Viva would "disappear as an independent competitor".
"We entered requests for integration, and we got an answer saying 'no', but that answer still opens a way for further discussion," Pedreira says. "We asked for a fast-track, to be exact, and they said there are no reasons to give us a fast-track. We disagree with their authority. And now we are starting [the discussion] again."
Pedreira expressed confidence that the Viva deal would be closed, acknowledging that it is more complex than Avianca's proposed relationship with Gol. Once those deals are finalized, Avianca will turn its attention its long-rumored acqusition of Santiago-based low-cost carrier Sky Airline.
"The road map makes sense. [The airlines] all have business models where they have very, very efficient operations, low costs, low price points for the customers," he says. "The vision includes Gol and Viva and also an airline we are very close to, Sky Airline in Chile, which is building a very competitive low-cost airline in Latin America."
"We want to close Gol and close Viva and then start thinking about how we can address the authorities in Chile."