New aviation taxes proposed in France would reduce the ability of Air France-KLM to address its impact on the environment through fleet renewal programmes, according to the group's chief executive Ben Smith.
Noting that "the number-one way for us to improve our [environmental] footprint is to buy new airplanes", Smith states during a Paris Air Forum discussion today that France's proposed aviation taxes "could put our [local] industry two, three, four steps behind the industries in the markets and environments right next to us".
Referring directly to the Convention Citoyenne pour le Climat – or Citizen's Convention on Climate – which was established in France to define a series of measures aimed at cutting 40% of the coutnry's greenhouse gases by 2030, Smith questions why the imposition of taxes is necessary when the group is already using "every tool that's available today" to address sustainability issues.
The aviation measures proposed earlier this year by the CCC – but yet to be introduced into law – would be among the most draconian in the world, including €30-60 taxes on economy-class flights, and €180-400 taxes on business-class flights. They also call for domestic flights to be discontinued by 2025 where high-speed rail alternatives are available, and the banning of new airport projects and the expansaion of existing facilities.
With Air France-KLM facing incredible financial pressure amid the coronavirus crisis, Smith welcomes "any incentive" that means it would "be able to buy newer airplanes as quickly as possible", he says.
That is why the group is "totally against taxes", he states.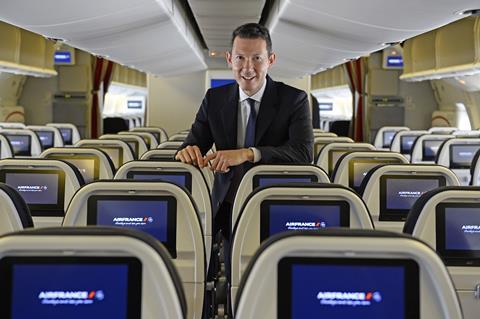 "We'd like to go faster," Smith continues. "We need to make money to be able to do that. And if you look at the profitability of the whole industry, but in particular Air France-KLM last year, it's difficult to be able to make those kinds of investments."
He highlights the example of the Airbus A350 and A320neo, saying "they have an improvement of 20-25% immediately" in terms of emissions.
Smith emphasises that such technology is "available today", but that taxation could have a serious impact on the group's future profitability, endangering – and certainly slowing – further investments.
"I say 'let us buy new airplanes'", Smith states. "It's good for France, it's good for consumers, they are more efficient, so it all is a virtuous circle."
Air France-KLM stated in August that its competitiveness and sustainability is closely tied to its fleet strategy, and it already has a significant renewal programme in place.
"Mid- and long-term fleet investments drive the exit from the current crisis," it said. "The group therefore intends to keep the schedule as much as possible intact of committed fleet deliveries between 2021-25."
France's taxation proposals were also strongly condemned by the director general of IATA, Alexandre de Juniac, in September.
"Aviation is a leader in decarbonising – the first to deliver against global sectoral emissions commitments despite being heavily carbon dependent," de Juniac said. "If the CCC are really serious about decarbonising aviation, it should provide the sector with support to achieve its green roadmap."