Boeing expects strong growth in South Asia's passenger aircraft and freighter fleet over the next twenty years, according to its new Commercial Market Outlook for India.
Of the next two decades through 2041, Boeing sees South Asian carriers taking 2,210 new passenger aircraft, comprising 1,983 single aisle aircraft and 227 widebodies. It also forecasts deliveries of 80 freighters, but no regional jets.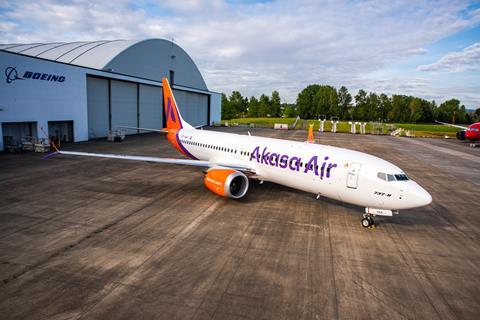 Of the 2,210 new passenger aircraft, 430 will be for replacement, while 1,780 will be for growth. And of the 1,400 passenger aircraft that Indian carriers have yet to order, 90% will be narrowbodies such as the 737 Max.
"The Indian market is recovering rapidly, and its domestic capacity has exceeded 2019 levels, with domestic traffic expected to double by the end of this decade," says Dave Schulte, Boeing commercial marketing managing director for Asia Pacific.
"Indian carriers will outpace global growth at nearly 7% and more than 80% of new airplane deliveries to this market will be for growth, while 20% of new airplanes will be for replacement of aging jets. This trend exemplifies India's commitment to modernizing its fleet with more sustainable and fuel-efficient next-generation airplanes."
In a presentation, he observes that India's gross domestic product (GDP) is likely to grow four-fold to 2050, and that India will have the world's third highest GDP by 2031.
As for the market for air travel, Boeing observes that India sees 23 million passengers travel by rail daily, compared with just 360,000 who travel by air. The airframer notes that if just 1% of rail passengers switch to flying, it will double the country's aviation market.
Schulte also observes that per trillion US dollars in GDP, India has just five dedicated freighters. This is just a fraction of the USA's 51 freighters per trillion dollars in GDP. Boeing expects India's new and converted freighter fleet to grow to 80 aircraft by 2041, from roughly 15 aircraft now.
Most of these new freighters will be converted narrowbodies, complemented by production and converted widebodies to support global freighter operations.
Boeing also sees several challenges, namely high fuel costs, operational costs priced in US dollars, and relatively low air fares.
It adds that new generation aircraft, specifically the 737 Max, can help by reducing fuel burn at Indian carriers by 21%, and that the 737 Max 10 offers low seat costs, making lower fares more sustainable.