The pilot goosed the throttles, the Lycoming TEO-540-C1A engines whined and the Cape Air Tecnam P2012 Traveller accelerated briskly along Boston Logan International airport's Runway 22R.
Heading into wind gusting at about 35kt, the 11-seater (registration N255CA) quickly passed 80kt airspeed, then lifted into the sky, lurching in turbulence while climbing above Boston's shipping channel.
The pilots of Cape Air flight 5351 turned the Traveller southeast, direct to Nantucket.
The date was 27 February, five days after Cape Air placed its first P2012s into service. The airline is working P2012s into its fleet ahead of broader introduction this year.
The roughly 80nm (148km) Boston-Nantucket route is a prototypical Cape Air flight. The company got its start in New England, shuttling passengers on 30-60min hops between Boston, Martha's Vineyard and the Cape Cod towns of Hyannis and Provincetown.
Cape Air has since expanded its New England network to include New York JFK and cities in Maine, New Hampshire, Vermont and Upstate New York. It also operates flights out of Marion (Illinois), Billings (Montana) and San Juan (Puerto Rico), and is seeking to start Boston-New York seaplane flights this year.
For decades, Cessna 402Cs were the backbone of the company's fleet. Cape Air has some 80 of the aircraft, which zip about Boston Logan's busy taxiways, taking their place between (indeed, under) jumbo jets lined up for takeoff.
Many of those 402Cs are upwards of 30 years old, but until recently no adequate replacement existed.
Then came the Italian-made P2012, a clean-sheet piston-powered commercial and business aircraft capable of carrying nine passengers and two pilots. P2012s have a range of 950nm and cruise speed of 173kt (320km/h), according to Tecnam. The Lycoming piston engines put out 375hp (280kW) each.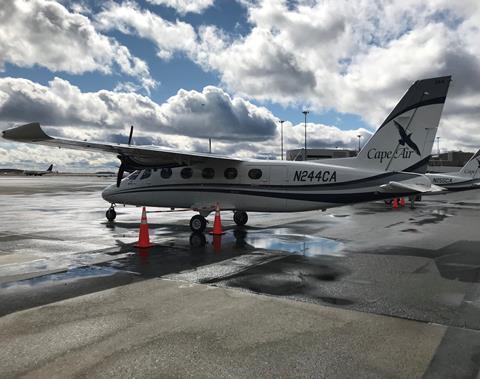 The aircraft have similar efficiency as 402Cs, but have wholly modern technology, including Garmin-made glass cockpit avionics. And while 402Cs can also carry nine passengers, they can only do so with one pilot, as the copilot seat becomes a passenger seat.
Cape Air has orders for 20 P2012s and options for 90 more, the airline has said. The Federal Aviation Administration certificated the P2012 in July 2019, and Cape Air received its first aircraft last year.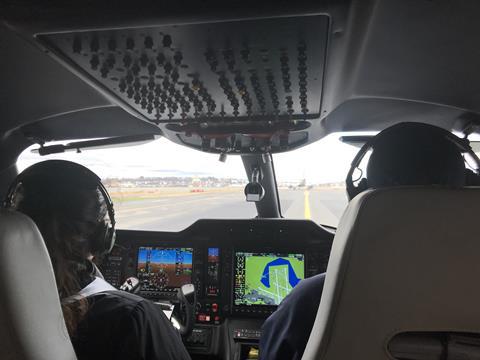 As of earlier this week, Cape Air had five P2012s on hand in New England, with three in revenue service. It expected another four to arrive from Italy within days, and to have 20 in the fleet by year-end.
On 22 February Cape Air put its new workhorse into revenue service for the first time, deploying the aircraft on routes touching Boston, Nantucket and the company's Cape Cod base in Hyannis.
The early operations are somewhat of a teething period – an opportunity for the company to break in the aircraft and train pilots and mechanics prior to placing P2012s into service out of Marion on 4 March, Cape Air says.
After leaving Boston that windy day, flight 5351 climbed, levelled off in smooth air at 5,000ft and accelerated to a cruise airspeed of about 170kt.
With a significant headwind, the P2012 pushed southeast along the Massachusetts coast, then left the mainland behind, crossing about 20nm of open water while descending to Nantucket Memorial airport.