Canada's Flair Airlines plans to double the size of its fleet over the next two years through the addition of 14 Boeing 737 Max 8s.
The Edmonton, Alberta-based ultra-low-cost airline said on 15 December that the new leased aircraft, all with 189 seats, will allow it to pursue "ambitious growth plans" across North America and Mexico.
"We're on a mission to deliver low fares to Canadians, and flying a state-of-the-art Boeing 737 Max fleet means we can do this at the lowest passenger-mile cost in Canada, and with the lowest carbon emissions of any Canadian carrier," says Stephen Jones, the airline's chief executive.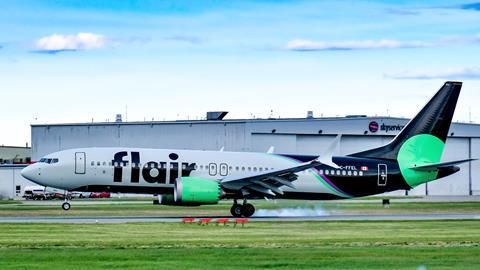 Flair currently flies to 32 destinations in Canada and the USA and plans to begin serving Los Cabos and Cancun in Mexico in February 2022. Its fleet now includes 12 737s, nine of which are newer Max 8s. In October, the airline disclosed plans to add four 737s by May 2022, bringing its total fleet to 16 aircraft.
Flair, which launched in 2017, aims to have 20 aircraft by summer 2022, and 50 by 2025.
Jones says the company has not decided where the additional jets will be located. Some will go to existing bases, "but there is no doubt that with these aircraft we will be opening new bases around Canada", he adds.
It is unclear whether the 14 new aircraft will be sourced from Miami finance company 777 Partners, which holds a 25% stake in Flair.
Last week, 777 Partners ordered an additional 30 737 Max aircraft, including an unspecified number of the high-density Max 8-200 variant. The latest commitment brings 777 Partners' orderbook to 68 Max jets.
At the time, 777 Partners said it expected to receive the jets in 2024 and for them to be operated by Flair and an Australian start-up called Bonza, which aims to launch in 2022.
"[The jets] could all come from 777 but it could also be a mix from other lessors, too," Flair's Jones says. "We talking to multiple lessors."
He is interested in acquiring Max 8-200s – which can accommodate 197 seats, up from 189 for the standard Max 8. The Max 8-200 is a "game-changer" and "fabulous aircraft", Jones says.
According to Cirium fleets data, 38 Max 8-200s are in service globally, all of which are operated by Ryanair or its sister carriers Malta Air and Buzz.
"Ryanair has the initial orders locked up, but I would take them as fast as I could," Jones says.
Flair plans to announce new North American routes and new bases from early 2022, he adds. The airline has no ambitions to fly to Europe, but Jones sees potential to serve Hawaii, which he says "looks like a great market".
The carrier currently serves six US cities that are popular with Canadian tourists during winter: Orlando, Phoenix, Fort Lauderdale, Las Vegas, Palm Springs and Los Angeles. Its website is advertising flights to Nashville, Denver and San Franisco beginning in March. With new aircraft, the carrier looks set to add more US destinations, possibly including New York City. "Watch this space, it won't be long," Jones says.