Cathay Pacific Airways removed 24 aircraft from overseas storage in 2022, as Hong Kong's air traffic recovery got underway.
At the end of 2022, Cathay's fleet amounted to 181 aircraft, while low-cost unit HK Express had 26 aircraft, and cargo operator Air Hong Kong 15, according to Cathay's 2022 results statement.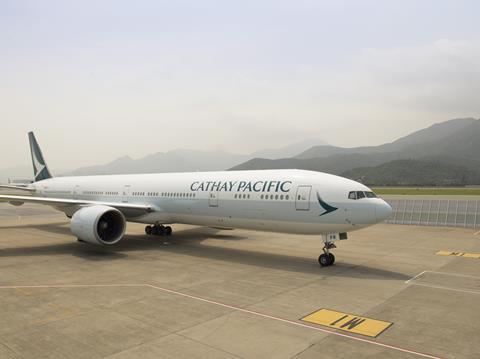 The return of aircraft coincided with the lifting of coronavirus-related travel restrictions in Hong Kong. Following the start of the coronavirus pandemic in China in early 2020, Hong Kong had been all but completely cut off to international air travel, effectively grounding Cathay.
The number of aircraft parked during 2022 was reflected in Cathay's overall utilisation rate, which stood at just 3.3h per day, down from 3.4h per day in 2021.
At the end of 2022 41 passenger jets were still parked overseas.
In addition, Cathay received five new aircraft in 2022, and expects deliveries of 11 in 2023.
"These aircraft were firm commitments made earlier that will help to modernise our fleets and improve efficiency," says Cathay.
"The Group believes that based on its available unrestricted liquidity as at 31st December 2022, as well as its ready access to both loan and debt capital markets, it will have sufficient financing capacity to fund this material investment in our fleet."
The average age of the combined, 222-aircraft fleet of Cathay, HK Express, and Air Hong Kong is 10.6 years.
The oldest aircraft in the fleet are 17 Boeing 777-300s operated by Cathay, with an average age of 21.2 years.
Given the rebound in passenger traffic, Cathay has also converted four 777-300ERs from "preighters" back to passenger jets by reinstalling their seats. Two -300ERs are still equipped for freight carriage, but these will also see their passenger seats reinstalled in 2023.