China Southern Airlines is reviewing the future of its five Airbus A380s amid uncertainty about the return of international travel.
Speaking during a CAPA Live event today, Guoxiang Wu, the Guangzhou-based carrier's senior vice-president of international and corporate relations, said of the A380: "It is still in our consideration how we can solve this problem."
He continues: "Maybe it's too large for the routes and the operation cost is very high."
Citing the similar dilemma faced "not only by… China Southern but also for many airlines", Wu says the operator "must [be] rethinking" the superjumbo's future when forecasts show international travel could take years to recover from the impact of the pandemic.
He further states that China Southern has "just started to retire some old aircraft, such as the Airbus [A330]" in response to that challenge.
"From our view, the international network still faces many difficulties in the future," Wu explains. "We must [rethink] our structure, our business model, our future.
"The future demand for the international routes – up to now we still haven't got the signals [of a] recovery in the coming years, so we must be thinking about [the] structure of the fleets, especially for the widebodies."
The story is different for short- and medium-haul aircraft, Wu states, given the relatively strong performance of China's domestic markets during the Covid-19 crisis.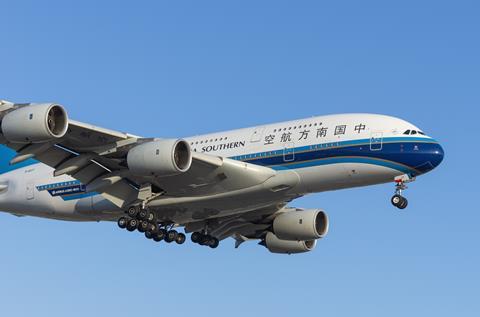 As part of the carrier's fleet restructuring plan, Wu says it is cutting "some orders of the new aircraft", while also "restructuring" its leases and returning older types.
Cirium fleets data shows China Southern has five A380s and 44 A330s in a fleet of more than 600 aircraft. The carrier operates a multitude of mainly Airbus and Boeing types.
At the end of March the airline revealed it took a CNY4 billion ($613 million) impairment charge in its 2020 full-year results, for the early retirement of an unspecified number of aircraft. Analysts suggest China Southern is ahead of other major Chinese operators in that regard, with Air China and China Eastern Airlines yet to record impairments at such a level.