Singapore Airlines has confirmed that it will accelerate the retirement of its remaining Boeing 777-200ERs owing to the impact of the coronavirus pandemic.
The airline says that its last three examples were recently moved to Asia Pacific Aircraft Storage in Alice Springs, Australia. Original plans had called for the type to be retired from its fleet this year.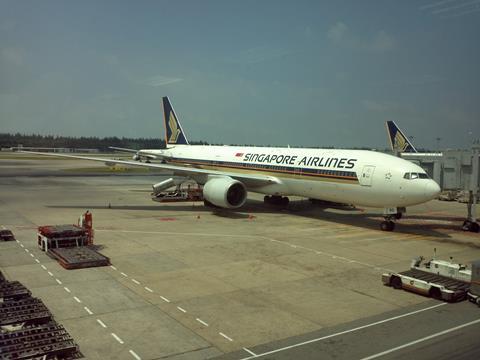 "Due to the significant drop in demand as a result of the Covid-19 outbreak the retirement of these aircraft have been brought forward and they will not be returning to operation for Singapore Airlines," says the airline.
The carrier's last three 777-200ERs bear the registrations 9V-SVB (MSN 28525), 9V-SVC (MSN 28526), and 9V-SVE (MSN 30870). Cirium fleets data shows that all three of the Rolls-Royce Trent 800 powered jets were delivered in 2001.
The 777-200ER was formerly the workhorse of the SIA fleet. The airline received its first four examples in 1997, and operated a peak of 46 777-200ERs from 2004-2009.
During this period, it was the most numerous type in the SIA fleet. In 2004, the 777-200ER accounted for 52% of the SIA fleet.
In the 2000s, SIA was one of the largest operators of the type. In 2004-2005 SIA's 46 777-200ERs cast it as the world's second biggest operator after United Airlines, which then operated 52 examples.
If all variants of the 777 are considered, SIA was the family's biggest operator from 2004-2008.
Cirium fleets data shows that SIA's remaining 777 fleet comprises 27 777-300ERs and five 777-300s. The carrier has orders for 20 777-9s.
Similar to other airlines globally, SIA has been hard hit by the flight restrictoins stemming from the coronavirus pandemic. During the month of April, Group ASKs fell 96.3%, and on 14 May it posted a net loss of S$212 million ($149 million) for the 12 months ended 31 March - the first net loss in its history.