FedEx is trimming its air delivery business to be "more agile and nimble" following a challenging fiscal third quarter.
The Tennessee-based shipping and logistics giant said during its 16 March earnings call that "demand weakness" has caused it to pursue cost-cutting measures, and that the company's air-delivery service, FedEx Express, has struggled most acutely amid the lacklustre global demand environment.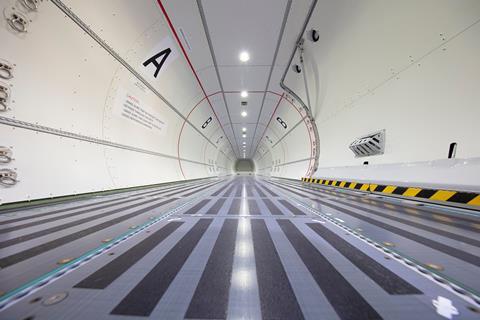 "Revenue at FedEx Express was down 8% year-over-year, primarily due to lower volumes globally and yield softness in Asia and Europe," says Brie Carere, FedEx's chief customer officer.
In response, FedEx reduced flight hours by 8%, parked nine aircraft and reduced flight frequencies on certain routes during its fiscal third quarter, which ended 28 February.
"As a result of these actions, we mitigated 45% of total revenue declines on an adjusted basis," says Raj Subramaniam, chief executive of FedEx.
"At Express, our cost base is constrained in the short term," he adds. "Our Express network is vast and complex and requires time to adjust to changing demand conditions. Therefore, we are taking additional steps to address our fixed expense structure."
The company is planning to phase out its fleet of McDonnell Douglas MD-11s in favour of more modern Boeing 777s and 767s converted for cargo. FedEx operates 54 MD-11s, all of which are approaching or exceeding 30 years old, Cirium fleets data show.
"Results at Express came in below where they need to be and below the potential we know exists in this business," Subramaniam says. "We're committed to addressing these cost imbalances, and we'll be taking further actions in the coming months, including a more pronounced readjustment of the air network."
Moving forward, FedEx is forecasting a rebound in the fourth quarter for its air delivery business, he adds: "We expect to be able to mitigate at least 60% of the revenue-related headwinds we are facing in Express. This supports improved profitability in the fourth quarter compared to the third."
FedEx has a massive hub in Memphis and operates a fleet including 777 freighters, MD-10Fs, MD-11Fs, 767Fs, 757Fs, Airbus A330-600Fs, ATR turboprops and Cessna Caravans and 408s.
Story updated on 20 March to correct the location of FedEx's hub, which is in Memphis.