Canadian regional airline Jazz has agreed to purchase up to 13 freighter conversion kits for De Havilland Canada Dash 8-400 turboprops, enabling the airline to carry freight needed to combat coronavirus.
Supplied by Toronto-based airframer De Havilland, the conversion kits will transform the 74-seat turboprops into a configuration called the Dash 8-400 Simplified Package Freighter, the companies announce on 23 April.
Jazz, a subsidiary of Halifax-based Chorus Aviation, will be the first airline to operate Dash 8-400s in the newly approved configuration, they say. Jazz operates aircraft under agreement with Air Canada.

Jazz president Randolph deGooyer says the conversions will enable the airline "to redeploy aircraft while contributing to the collective fight against COVID-19".
The companies say the conversions can be completed "quickly". Jazz is "working closely with Air Canada Cargo" on the possibility of deploying the first aircraft in "early May", it says. The airline will operate the modified Dash 8-400s under the Air Canada Express brand.
The conversions require removing seats and seat-track covers from the aircrafts' passenger cabin. Then, up to 17 cargo nets can be strapped to the seat tracks. The configuration allows each aircraft to carry up to 8,100kg (17,960lb) of cargo and provide 32.6cb m (1,150cb ft) of cargo space, the companies say.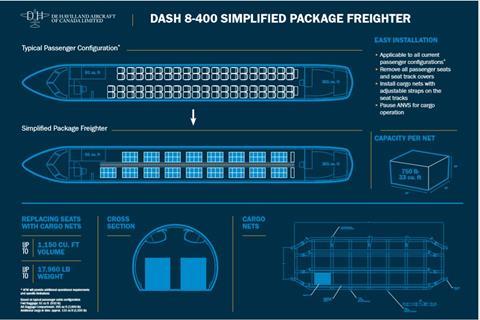 News of the cargo conversions comes after Chorus announced it reduced flying for Air Canada by about 90% in April and May and reduced its headcount by at least 3,000 staff, down from 5,000. Chorus has said it will seek wage subsidies from the Canadian government for staff affected by the headcount reductions.
At the end of 2019 Chorus had 53 Dash 8-400s in its fleet, including aircraft flying for Air Canada and under Chorus' leasing and aviation services arms, according to a securities filing.
Story updated on 23 April to include comments from Jazz.